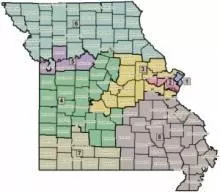 The fate of this map will rest in the hands of the Missouri Supreme Court.
Redistricting is the straw that stirs the bitter, burning, 195-proof partisan cocktail we chug down while squeezing our noses every campaign season before waking up the morning after the election massaging our temples, cursing the gods, wondering why we keep putting ourselves through this madness.
It's not supposed to be this way, of course. In a society of only righteous and reasonable politicians and power brokers, districts would be recalibrated every ten years to ensure that every vote counted equally, that each community's common needs were proportionally represented... the sturdy Republic envisioned in James Madison's Federalist No. 10.
Instead, redistricting means: every ten years the majority party aims to carve its state's districts so as to maximize its chances of retraining power indefinitely without making this goal so blatant as to hand the courts grounds to overturn the new map. Consequently, state and federal legislatures become more and more polarized, with elected officials representing tailor-made districts that lean further to the left or right than would naturally. As ProPublica puts it, "Instead of voters choosing politicians, redistricting at its worst lets politicians choose voters."
This Thursday the Missouri Supreme Court will consider just this point, as the Justices hear the arguments defending and condemning Missouri's new redistricting map.
Democrats in St. Louis and Republicans in Kansas City say that the map has unjustly stripped power from the state's two urban centers, in favor of the rural regions. The map eliminated Democrat congressman Russ Carnahan's St. Louis district, leaving Missouri's hallmark city-- a Democrat stronghold-- with one U.S. representative, Congressman William Lacy Clay. If the current map holds and Carnahan wants to remain a congressman, he would have to either challenge Clay in the 1st District or run for Senate-candidate Todd Akin's open seat in the conservative-leaning 2nd District. So he has much riding on the court's decision.
Those against the map, also declare that the carving of at least two districts, the 3rd and the 5th, violate the state constitution's rule that the districts be as "compact as may be."
In a guest op-ed in the Post-Dispatch, Rob Richie and Lindsey Needham, of the national non-partisan election reform organization FairVote, wrote:
The root of the current controversy is the fact that the legislature's congressional redistricting plan poorly reflects the state's close partisan division (Missouri was the closest battleground in the 2008 presidential election). Based on our projections, however, the current plan would result in six Republican seats and just two Democratic seats, without any inherently competitive districts.
There is no question that this map-- like the ones in almost every other state-- was drawn to favor the party in power. It's been like this since the days Patrick Henry unsuccessfully tried to squeeze Madison out of the Virginia House of Delegates in 1788. This time it is the Republicans in power in Missouri and even a casual glance at the map shows zigging and zagging, twisting and turning district boundaries, rigged to benefit the majority. Look at Illinois' map and the Democrats have done the same thing there.
There are a few ways to properly gerrymander a district. Enough that ProPublica has created a useful glossary of terms to describe the various methods:
Cracking: This technique splits a community into multiple districts to ensure it doesn't have significant sway with a candidate. In the ugly racial history of redistricting, cracking was often used to ensure that African-Americans could not elect African-American politicians. The Voting Rights Act banned racially motivated cracking, with some success. But cracking is still common, with the goal now frequently to fracture communities for partisan gain.

Packing: When faced with too many unfriendly voters, it can also be a winning strategy to limit the damage by drawing them all into one district. The benefit for you is there are fewer of the voters you don't want in all the surrounding districts. When race is involved, redistricting pros call it bleaching.

Voters in the packed district often lose out because no matter how large their influence in the district, they can only have sway with one representative. If the community members were spread over more districts, and had significant population in each, they could have the ear of multiple politicians.

Hijacking: If there's an incumbent you don't like, you can make their re-election difficult by putting them in a district with another incumbent to contend with. If you don't like either incumbent in the newly drawn district, even better, because only one can be re-elected. If the two incumbents are from your rival party, you can force a costly primary battle, weakening your likely opponent before general election.

Kidnapping: Most politicians have geographic political bases; places they came up in politics where they have supporters, political allies, donors and name recognition. But what if their home address ends up in a different district than their base? That can make re-election tough, as North Carolina Congressman Brad Miller is about to find out. A new district boundary adopted by the state legislature there elegantly sweeps out to cut his home in Raleigh out of his old district. Republicans in the state have said that gaining congressional seats is a goal of their redistricting effort.

Gerrymandering: Taken together, all of these handy techniques are known by this most famous redistricting term. In 1812, a Massachusetts governor named Eldridge Gerry was blamed for a redistricting plan designed to weaken the influence of the opposition Federalist party. The map, drawn to favor the Democratic-Republicans, included a long, squiggly district wrapped around the other districts like a salamander. The district, immortalized by a famous political cartoon, was dubbed the "gerry-mander." (This was not fair to Gerry, since he was was not actually responsible for the map.) Gerrymandering has become the term of choice for all misbehavior in redistricting, but particularly refers to districts drawn in bizarre, wandering shapes for the benefit of particular politicians. A special subset of this is the sweetheart gerrymander, where incumbents of different parties collude to draw districts that make sure everyone stays in office.
Obviously this is all super sketchy. In 1986, the U.S. Supreme Court ruled that gerrymandering, for partisan or racial reasons, was unconstitutional. But the standard to ascribe these motives has proven problematically high and vague. Since that 1986 ruling, federal courts have heard twenty cases charging partisan gerrymandering. The Justices denied relief in every single one.
About a week ago, a Cole County judge approved the map drawn by Missouri's legislature, stating that he did not want the sides "to engage in a never-ending game of one-upmanship in a constant search for the ultimate map."
The state Supreme Court will likely announce a verdict for Missouri before February 28, when the candidate filing period begins. The three judges appointed by Democratic governors have recused themselves from the case. Not a good sign for Carnahan.
----- For more on St. Louis politics, boxing, hip-hop and miscellaneous social issues, follow @albertsamaha on Twitter.