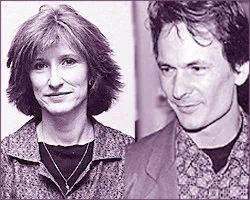 Wright and Gander badly Photoshopped together.
We don't know how you can possibly not know this, but here's a gentle reminder, dear readers: Tomorrow is Valentine's Day. So why not celebrate with what is arguably the most romantic of the arts: poetry! (Argument may come from those who support cooking)
C.D. Wright and Forrest Gander, who also happen to be married, will be giving a joint poetry reading tomorrow afternoon at Saint Louis University as part of the English department's Sheila Nolan Whelan Reading Series. They'll be appearing at 2 p.m. in the Pere Marquette gallery, on the second floor of Douberg Hall, at 221 North Grand.
Wright hails from the Arkansas Ozarks and currently teaches at Brown University. Her work has been described as "experimental" and "elliptical." Her latest book, One With Others, was a nominee for the 2010 National Book Award and a winner of the National Book Critics Circle Award. For their 2003 book, One Big Self: An Investigation, she and photographer Deborah Luster interviewed and photographed inmates in a Louisiana women's prison.
Though he was raised in Virginia, Gander, too, has a connection to Arkansas -- he lived in Eureka Springs between a stint writing and translating in Mexico and his current teaching gig, which is also at Brown. Many of his poems are about landscapes, informed by his knowledge of geology, which he studied as an undergraduate. Last year, he was awarded the Library of Congress Witter Bynner Fellowship. He's also published many translations of Mexican and South American poets.
Here are some poems by Wright and Gander: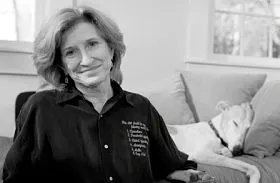 image via
C.D. Wright
Everything Good between Men and Women by C.D. Wright
has been written in mud and butter and barbecue sauce. The walls and the floors used to be gorgeous. The socks off-white and a near match. The quince with fire blight but we get two pints of jelly in the end. Long walks strengthen the back. You with a fever blister and myself with a sty. Eyes have we and we are forever prey to each other's teeth. The torrents go over us. Thunder has not harmed anyone we know. The river coursing through us is dirty and deep. The left hand protects the rhythm. Watch your head. No fires should be unattended. Especially when wind. Each receives a free swiss army knife. The first few tongues are clearly preparatory. The impression made by yours I carry to my grave. It is just so sad so creepy so beautiful. Bless it. We have so little time to learn, so much... The river courses dirty and deep. Cover the lettuce. Call it a night. O soul. Flow on. Instead.
(from Steal Away: New and Selected Poems)
Abscess by Forrest Gander
Good morning kiss. Their teeth glance. Clack of June bugs against pane. On the porch a young man in the full sun rocking. Jars incubate tomato plants. His mother sweeps the dirt yard away from flowering vinca and bottle tree. Straightens up, one-eyed by ragged hens. As her boy ambles away to the steady pulse in his skull. The cattle gate swinging open behind him. She takes a headache powder and it is nineteen and twenty seven. The James overruns its levee, backs up the Blackwater. Nineteen and twenty nine: she reads his postcard, the tobacco crop burns. Nineteen and thirty, drought. Long limp bags drag through fields. The Lord whistles for the fly. Revival tents threaten a rain of scorpions. To cure her hiccups, the woman sees a hypnotist. Promptly coughs herself to death. In pungs marked men ride. The son is blown away. No one returns in this story. No one escapes. The tribe is glued together for ruination, friends. There is no more time, there is no way out.
(from Lynchburg)