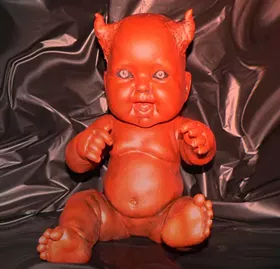 Devil baby doll: significantly more frightening that the New Jersey Devils.
The
Blues
wrapped up their mini road trip last night with a shootout victory in
New Jersey
, beating the
Devils
by a score of 4-3.
T.J. Oshie
, shooting first, scored the lone goal in the shootout (on what amounted to a changeup, no less), while
Brian Elliott
made three straight stops to secure the win. The win kept the Blues undefeated against
Eastern Conference
opponents this year (in regulation, anyway), with an 11-0-2 overall mark.
It was just the second shootout win of the year for the Blues, who have had an horrific time finding ways to get the puck home in the skills portion of the competition. They managed to miss seeing Martin Brodeur, currently out with an ankle injury, and I don't think any of the Blues' players were complaining. The Devils' backup, Johan Hedberg, played reasonably well in place of Brodeur, but any time you can avoid playing against a surefire Hall of Famer you don't get too very upset about it.
There were two really encouraging things about this game; one very general and one very specific.
Let's start with the specific: it was good to see Patrik Berglund and Chris Stewart contribute. Berglund continues to frustrate with his inconsistency, oscillating wildly between a physical presence on the boards with a sniper's shot and a timid dump-and-chase specialist. Trouble is, you never really know which Berglund is going to show up on any given night. Stewart has had just a miserable season to this point, and the clock is beginning to tick on him having any chance of turning it around and really salvaging the year.
The important thing about Berglund's goal last night wasn't actually the shot itself; he deflected a high puck from about three feet. Not exactly a masterpiece of the shooter's art. What was important, though, was where Berglund tipped the puck in from. He was right in front of the net, a space his frame and strength would seem to make him an ideal candidate to occupy. All too often, though, we see him elsewhere, on the periphery rather than taking up space down low in the crease. He needs to go to there far more often.
Stewart's goal was just a good old fashioned power forward scoring play. Not much to say about it and not much that would make it all that special except for the exceeding rarity with which he's executed exactly that play this season. I've been fooled too many times by Stewart this year to predict yet another breakout; I'm just going to be glad for the goals he scores whenever he scores them.
The more general point about the game last night that is so encouraging is this: the Blues won a game in which they did not get miraculous goaltending. Night after night we see this team win when the defense puts the screws to the opposition and the goalie play is airtight; last night neither of those things were true.
Jaroslav Halak had a really rough outing, his first in a very, very long time. Brian Elliott probably deserves the game's MVP award for his work after taking over for Jaro. Even so, Elliott made a few very nice stops -- one breakaway by Adam Henrique looked like an absolute sure thing to me -- but didn't have to completely stand on his head. Instead, the Blues just played good enough defense and the talent on the offensive side led the comeback.
Great teams in any sport can beat you a variety of ways. Teams with just one way of winning (see also: 2011 Patriots), invariably become exposed somewhere along the line. That has been the case with this Blues team at times, as they simply don't score enough many nights to compensate for a goalie having a rough outing or a freak soft goal or two finding the net. Last night, though, they had to score to win and score they did. It isn't a magic fix, by any means, but it's mightily encouraging to see all the same.
David Perron did score the other goal, his third in two games, but that's just what David Perron does. Berglund and Stewart score? Instant column! David Perron scores? Not so much. Chalk it up to the pitfalls of brilliance.