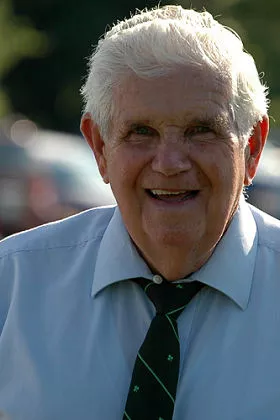 Harry Keough, the soccer great who was a defender on the legendary 1950 U.S. World Cup team and who went on to become the longtime coach at Saint Louis University, died yesterday morning at home in St. Louis. He was 84.
Keough was one of five St. Louisans on the U.S. national team that beat 500-1 odds to defeat Britain in the World Cup tournament in 1950, generally considered the greatest upset in the history of soccer.
"We didn't feel we needed to beat them, but we felt if we could just play pretty good, it would be enough," Keough told The Associated Press in a 2002 interview. "In our minds, if we lost 2-0, we'd feel pretty good about ourselves."
Instead, the Americans went on to win 1-0. Keough started in all three of the Americans' appearances; sadly, after defeating the British, they lost to Chile in the next round of the tournament.
Their story was later turned into the 2005 movie The Game of Their Lives, partially filmed in St. Louis, as NPR reported in 2003. (Keough was played by Zachary Ty Bryan, best-known as one of the kids on Home Improvement.)
Keough was a lifelong soccer player, starting in youth league with the St. Louis Schumachers. He joined the U.S. national team in 1949 and went on to play in the 1952 and 1956 Olympics. Because he was a defender, he didn't get to score much: His lone goal was in a World Cup qualifying match against Canada in 1957.
Professional soccer wasn't an option in those days, but Keough played for many years with Kutis, St. Louis' amateur team, while working for the U.S. Postal Service. Kutis was a powerhouse during Keough's prime playing days, in the 1950s, winning six consecutive U.S. Amateur Cup championships and one U.S. Open Cup title.
Harry Keough, top row, third from right, and the 1950 U.S. national soccer team.
"Harry was the main guy," St. Louis soccer historian Dave Lange told the Post-Dispatch. "Players on that team said everything they accomplished was attributed to Harry's leadership."
At the end of his playing days, it was natural, then, that Keough would become a coach. He started at the Florissant Valley campus of St. Louis Community College and moved on to SLU in 1967, where his first team became the NCAA co-champions. Between 1969 and 1973, the Billikens won four consecutive national titles. When Keough retired in 1983, his career record over sixteen seasons was 213-50-22.
Keough was inducted into the National Soccer Hall of Fame in 1976.