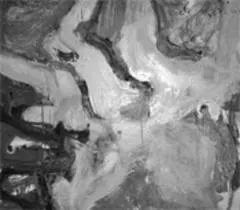 The 1968 Willem de Kooning painting Donald Rasch kept in his bedroom for several years.
Donald Rasch, the convicted art thief who was found unconscious in his Maplewood home in November and died four days later, has been declared a homicide victim by police.
Police had initially deemed Rasch's death
suspicous
, because there were no signs of a break-in or struggle, and his body had no outward signs of injury. Police have not released the cause of death.
Rasch, a devout art lover, referred to the theft of 113 modern art masterpiece as "a crime of passion" when former Riverfront Times writer Kristen Hinman profiled the heist in a 2005 feature, "
Masterpiece Theatre
."