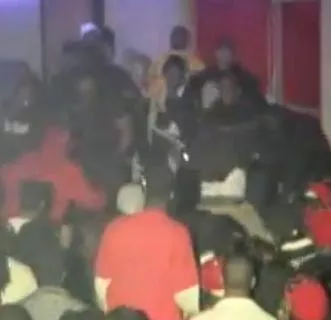 Five plaintiffs have filed suit against an East St. Louis nightclub after claiming to have suffered injuries during a no-holds-barred melee made infamous last April after video footage emerged and circulated across YouTube. The fracas, which lasted several minutes, included pistol whippings, body slams and several blows to the body with what appear to be metal chairs and bar stools. One security guard was hospitalized with a gunshot wound to the hand.
During the early-morning hours of April 3 during a Webbie concert at Blackmon's Plaza, at least three plaintiffs were caught up in a stampede, one plaintiff was attacked by security officers, and another plaintiff required eight staples in his head after being clocked with a chair, according to the suit, which was filed in St. Clair County Court on January 19.
The 20-count, 46-page liability complaint also alleges that security guards had chained an exit door shut, preventing anyone from escaping the battle royal.
After the videos circulated, the Illinois State Police opened an investigation. Meanwhile the city of East St. Louis suspended Blackmon's liquor license for two weeks and hit the club with a $1,000 fine.
In addition to Blackmon's Plaza, the plaintiffs name Trill Entertainment and its chief executive officer as defendants, saying they negligently failed to prevent an attack, failed to warn of the possibility of an attack and failed to provide adequate security.
The plaintiffs are seeking a judgment of $305,757.05 and compensatory damages of more than $800,000, in addition to punitive damages.