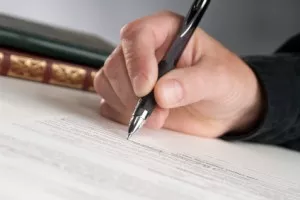 The nation's foreclosure crisis has officially entered its newest chapter -- criminal allegations against the various players involved -- and Missouri is playing a leading role.
Last Friday a Boone County grand jury handed up a 136-count indictment accusing an Georgia foreclosure-services company of widespread forgery and false declaration. That company, DocX, a unit of Florida-based Lender Processing Services, created and notarized reams of documents to help banks expedite home foreclosures. They did so by resorting to pervasive robo-signing tactics -- that's when a bank employee, often under another person's name, signs thousands of documents without verifying the information -- that resulted in the improper evictions cash-strapped homeowners, according to the 104-page indictment.
The grand jury also indicted the company's founder and former president, Lorraine Brown, under the same charges. DocX shuttered its operation in 2010 after the robo-signing scandal first came to light. Last year, the issue gained national attention when 60 Minutes reported that Linda Green, an employee of DocX, purportedly signed thousands of mortgage-related documents on behalf of several different banks and in multiple handwritings.
In the lead story in this morning's New York Times "Business Day" section, reporter Gretchen Morgenson details the indictment. She calls the lawsuit "one of the few criminal accusations to follow reports of widespread improprieties against homeowners."
Missouri Attorney General Chris Koster will prosecute the case.
Brown could face up to seven years in prison for each count, while DocX could be fined up to $10,000 for each forgery conviction and $2,000 for each false declaration conviction.
"The grand jury indictment alleges that mass-produced fraudulent signatures on notarized real estate documents constitutes forgery," Koster said in a statement. "Today's indictment reflects our firm conviction that when you sign your name to a legal document, it matters."