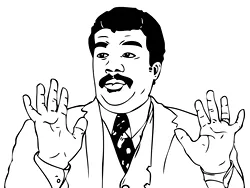 Astrophysicist Neil deGrasse Tyson is not impressed by our grade in Physics.
The Thomas B. Fordham Institute for Advancing Educational Excellence just released its comprehensive
State of State Science Standards 2012 report
, which grades each state on how it teaches science to students, and Missouri ranked in the top twenty. Sadly that's no better than a C grade, as the Fordham report shows that the quality of science education in our schools continues to erode nationwide.
There are some bright spots in Missouri's
report card
(pdf warning). We scored a six out of possible seven in Life Science education, and we achieved a respectable five out of seven in both Earth & Space Science and Scientific Inquiry & Methodology. However, we do ourselves no favors with a dismal two out of seven in Chemistry, and we scored a deplorable big fat zero in Physics.
The problems with Missouri's scientific curricula include misusing scientific terminology in test questions, using clunky or confusing syntax on test questions, and the more insidious sins of omission. In the analysis of our strong Life Science education, the report notes that some subjects are marked with an asterisk at the high school level. The asterisk "indicates that it is a local assessment item," which means that the asterisked subject will not be included on the statewide tests. The hypothesis here is that most teachers will not teach this material, because students won't need to learn it in order to succeed on the exams. Much of the material on evolution comes with an asterisk, so rather than face the increasing controversy that comes with teaching evolution in our schools, Missouri seems content to sidestep the issue with a bit of administrative chicanery.
Of the eight states that border Missouri, Kansas and Arkansas both scored higher -- each received a grade of B. Iowa, Illinois, Kentucky and Tennessee all scored a D, and Oklahoma and Nebraska both received an F. As the Fordham Institute researches noted in their introduction to the report, overall "the K-12 standards of most states remain mediocre to awful, placing America's national competitiveness, technological prowess and scientific leadership in grave jeopardy."
So everyone of those low grades is a failure for all of us, not just Oklahoma.