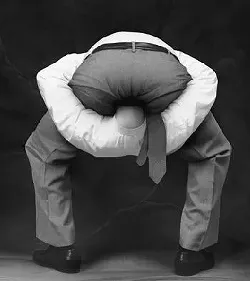 Missouri's presidential primary is Tuesday, February 7. It's your chance to tell your party who you want to see represent you as president. Except that if you're planning on selecting someone from the Republican section of the ballot, your choice doesn't matter -- and that's not me saying that, it's the official policy of the Republican party.
In an effort to stop states from "front-loading" the nomination process -- this is what happens when states race to hold their primaries and caucuses as early in the year as possible -- the GOP passed new rules that cut the size of a state's delegation in half if said state holds a binding nominating contest prior to March 6. The Missouri Legislature did not succeed in pushing back the date of our primary, so the state Republicans had to find a way to retain the full size of its 52-strong delegation. A caucus on March 17 is their solution.
This
caucus is the one that matters if you're casting a ballot for a Republican candidate.
Wait, it gets stupider.
The ten-deep field on the
Republican ballot
features Michele Bachman, Herman Cain and Rick Perry, all of whom have already dropped out of the race. Not featured? The surging Newt Gingrich, who didn't bother
to file the necessary paperwork
to get on the ballot -- but of course, why would he? This primary is meaningless in the eyes of the GOP.
Lest you think the Democrats are without idiocy of their own -- and you should never think that -- Secretary of State Robin Carnahan (D) issued a press release yesterday afternoon headlined "
Carnahan Encourages Missourians to Participate in Presidential Primary
." Carnahan is quoted in the release as saying, "Missourians have a chance to make their voices heard, and I hope they show the political party insiders that they want to have a a say in this process by going to the polls." On Monday, however,
Carnahan was characterized
in the
Los Angeles Times
as doubting the need for Missouri to hold a meaningless primary that's costing us $7 million when Missouri already faces a $500 million shortfall.
"It's a bad idea for all kinds of reasons," Carnahan said in an interview Monday. "Not only is it wasting taxpayer money, but it's not encouraging people to get out there and be active, which I think all of us want to do."

So go ahead, make your voice heard. Just remember that no one's listening, and it's costing us $7 million to piss into the wind.