New book by Rob Durham, St. Louis comic guru
Rob Durham
teaches. Both by nature and he literally substitute teaches in the Clayton and Rockwood school districts.
In addition, he's been trying to school newbie comics as of late on how not to humiliate themselves. (And yes, he's also trying to make fat coin by selling a book, "Don't Wear Shorts on Stage.")
Durham has definitely earned the right to offer advice: A ten-year veteran of the industry, he spent two years as a club doorman, put in lots of road time, and has emceed and featured for big headliners such as
Bob Saget
and
Maria Bamford
.
He's opening for
Dan Cummins
at the
Funnybone tonight through Saturday
, and for
Jimmy Pardo
at
Soulard Preservation Hall on March 16
.
Daily RFT
:
So. Whence this book?
Rob Durham
: A high school student I had taught two years ago emailed me for advice on his first open mic. I wrote back a pretty large email that ended with, "Sorry I wrote such a book."
I had started writing (but never even come close to finishing) several books before. But this one kept going, because I knew there was a need for it.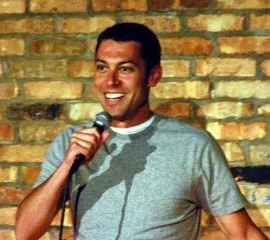 Rob Durham, teacher/comic
Every week at open mic night at the Funnybone there are 40-50 guys who sign up and a lot of them hurt their chances because they don't know what to do. Being a teacher, I was just frustrated. I wanted to get it through to them: There's so much more than just telling jokes for a few minutes.
It's funny, I've seen lots of new guys make all the mistakes you point out (like belittling the crowd for not laughing, etc.). Some of your advice, though concerns how to relate to fellow comics, which can be crucial for those who want to do this for a living. I noticed this passage:
I can't stress enough how important it is to be respected by your peers. Extreme outcasts are not tolerated or helped by anyone in the business. You're not Andy Kaufman, so don't try to make it that way.

My question is: Are you being too conservative?
What if we DO have the next Andy Kaufman? Do you fear you're discouraging creativity?
Anyone in Andy Kauffman's league of creativity probably won't resort to my book (or any) for instruction.
I think experimenting is a good idea, down the road. But to be able to get stage time, a comic can't be doing things that are so over the top that the club is afraid to put him or her on stage.
Over the years, we've had quite a few odd comics perform in some strange ways. The problem is, they get some of the crowd to laugh at them but most of the crowd just gets confused. When they repeat the bit the following week any "magic" that they thought they had is gone.
While a lot of what I write has exceptions to the rules, I don't see this as one of them. My experience has been that these oddball acts are usually done by oddball people who are impossible to have a real conversation with because they're so out there. No one is going to insist they be on stage, they need to be able to communicate well with others.
A lot of these lessons in the book, you learned the hard way. Which was the most painful?
In my second year of comedy, I was emceeing a show at a really good club on a Wednesday night. It was only half full so everyone was pretty relaxed.
The headliner told me to move the guy who was doing a five-minute guest set to after the middle act, instead of before (probably so the headliner would have an easier time following the middle act). I didn't think it was a big deal so I did.
The manager that night took it as an insult and told the owner. The next day the owner screamed at me over the phone for several minutes threatening to make sure that I would never get on another stage if I ever pulled that kind of a "power move" again.
I had no idea I pulled a "power move" or that it even mattered. There are so many (previously) unwritten little rules like that that no one had ever told me about.
Marc Maron: What has the industry ever done for comics? Nothin'!
At the Montreal Just for Laughs Festival, comic Marc Maron gave a speech in which he said the industry has never done anything for comics, i.e., that it's exploitative (which is why some comics are trying to cut out the middleman and book shows in a more DIY style). But your book seems to argue that the industry is still the best game in town.
I actually don't think managers or agents are necessary, especially for a middle act, but a booker can be very helpful. The difference is that most bookers don't skim nearly as much when they find gigs for you.
I think my book aims comics to focus on performing in comedy clubs versus one-nighters in various bars around the country. The reason is that comedy club crowds are usually better and appreciate a more creative comic a lot of times.
Most comics who work the bars that only have comedy one night a week or less have tailored their acts toward people who don't see as much comedy. A lot (I'm not saying all) of these comics become very "road" which is a way of saying "hacky."
Too much of their act becomes drinking stories and dick jokes and they hit a career ceiling because they sound like everyone else. This ceiling becomes low enough that the good comedy clubs no longer use them. They often complain about comedy club owners who no longer use them after doing their same set from 1994.
You've featured for a lot of big comedy names; did it surprise you how they behave in person?
I think the thing that surprised me about a lot of the bigger names is that they felt the need to be "on" from the moment I met them until usually at least the third or fourth night that we worked together.
It shows how much they really felt the need to be funny to whomever they came across even way before the show. It almost felt like they were embarrassed to have to work in a Midwest city instead of being in L.A. so they had to impress me in some other way to convince me they were legit.
Pardon my name drop, but I'll never forget
Bob Saget
showing me how he just got a text message from Ashley Olsen in the back of a limo in Cleveland. I felt like saying, "I watched
America's Funniest Home Videos
every Sunday when I was a sixth-grader Bob. You had me at, "America, lock in your votes!"'"
What does the St. Louis comedy scene need the most?

Attention!
I moved here in 2005 from Ohio because it had so many great comics to learn from, and a lot more stages to perform on. On any given open mic night, people can see pros who have done showcases on major networks.
Comics like
Greg Warren
and
Tommy Johnagin
who still frequent the club are now some of the best in the business. There are a plethora of other comics following in that same path all over this city.
The open mic scene has taken off because of the desire of so many comics to get better and succeed, which means there are some wonderful shows with little to no cover charge all over St. Louis. But a lot of nights only a few people take advantage of this -- or, even worse, our shows are canceled.
Instead of staying home to watch "re-reruns" of Blue Collar Night on Comedy Central, fans of comedy should head out to see live performances of some of the really amazing, yet unknown talent that St. Louis has.
It honestly is one of the strongest comedy scenes in the country and I'm very proud to be a part of it (And I'm not just saying that to get it to sleep with me!).
We could also mention that Rob is signing copies of his book on Saturday at Six North in Ballwin.