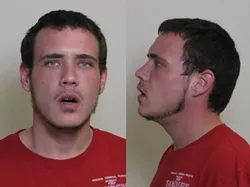 There's a unique rhythm to police reports, one that prizes precision and conciseness more than style. Occasionally, you find one that sheds its "just the facts" cadence and blossoms into blank verse beat poetics. Such is the case with the Madison County Sheriff's Office report on the actions of Dustin M. Kraushaar, 20, of Brighton, Illinois.
Kraushaar was using the drive through window at an undisclosed bank in Godfrey, Illinois, (presumably for a deposit) when according to the police report:
"Kraushaar exposed his penis to the teller, with the intent of arousing his sexual desires."
"Intent of arousing his sexual desires" sounds so Victorian, and I love it. Hat's off to you, unknown police report writer. Somehow Kraushaar successfully evaded the police, but eventually turned himself in. He was charged with misdemeanor public indecency, posted bond and released.
There's no indication he achieved release, however.