Photo by Jennifer Silverberg
What will the appeals court think of Paul McKee's ambitious plan for the north side?
Tomorrow
, in Missouri's Eastern District Court of Appeals, lawyers for developer
Paul McKee
will once again fight for the legitimacy for his $8.1 billion-dollar plan to revitalize North St. Louis -- and for the big chunk of change the city promised him in subsidies.
So what's this court case all about? Here's a quick refresher.
May 2009
: Paul McKee finally announced (after much secrecy) his ambitious plan to transform 1,100 acres of the north side into new homes and four commercial hubs, which he claimed would generate 22,000 permanent jobs and 43,000 construction jobs in the first fifteen years.
But in order to realize his vision, he said, he needed a huge subsidy from the city (called a TIF).
And in order get that subsidy, he had to convince the city to declare the area "blighted."
Late 2009
: A group of Fifth Ward residents sued McKee. They claimed that the value of their real estate was being drug down by the blight designation and the plan in general -- a plan, they insisted, that wasn't even properly approved by the city. (See
our feature
on the original lawsuit).
February 2010
: The
colorful and often contentious trial got heavy coverage
in the local media. It was a bench trial, meaning there was no jury. So the final decision on the development's future came down to one person: Judge
Robert H. Dierker
.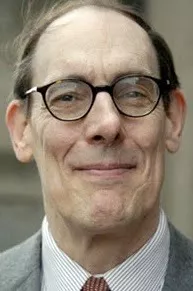 Judge Robert H. Dierker to Paul McKee: "No."
July 2010
: Judge Dierker
ruled against McKee
-- in a way.
Dierker ordered a halt to McKee's plan, explaining that the city ordinances that set the plan in motion suffered from a "fatal flaw": They failed to include any well-defined "projects."
In other words, Dierker believed that the city had failed to obey state statute in that it green-lighted McKee's plan without asking for more specifics.
Interestingly, the legislators who'd written the statute hadn't bothered to define "project," perhaps in an effort to grant municipalities leeway to do it themselves. Nevertheless, Dierker turned to a dictionary and came up with his own definition by example:
Projects are concrete, not hypothetical or abstract: sanitary sewers will be constructed in City Block 1000, commencing on such-and-such a date, at an estimated cost of so many dollars.

Crucially, though, the judge seemed to leave the door open for McKee to remedy his mistake, concluding that "this judgment shall not be construed to forbid defendant City of St. Louis to amend or supplement said ordinances in accordance with law."
February 2011
: The Board of Alderman, spurred on by McKee, passed a new ordinance designed to fulfill Dierker's requirements.
However, when McKee's lawyers asked Dierker to re-enter a new final (and favorable) judgment because the "fatal flaw" had been essentially fixed, the judge declined.
Which brings us to Wednesday morning. The developer's appeal will be heard by an appeals panel of three judges.
Each side will get 20 minutes to argue its case. For a preview:
Click here to read McKee's initial appeal brief
Click here to read Fifth Ward Plaintiffs' appeal brief
And the stakes are fairly high for McKee -- the TIF package in question was worth
$390 million.
If he's forced to start all over from scratch, his chance of success might be harmed by his precarious financial position (which was skillfully
laid out
last month by
Tim Logan
of the
Post-Dispatch
).