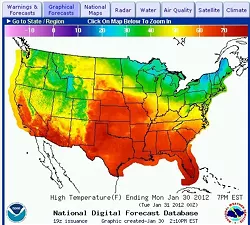 via NOAA.gov
January weather, I am disappoint.
The National Weather Service predicts a high temperature of 68 degrees Fahrenheit today, which would set a new record high for January 30 in St. Louis (the current record is 67 degrees, set in 1884.)
This is complete bullshit.
All weekend long, people were gushing about the beautiful weather while they walked dogs, played Frisbee in the park and washed cars. All of those assholes can go screw, because January in St. Louis is supposed to be cold and nasty -- and that's just how I like it, because I am cold and nasty.
This winter has been a complete disappointment so far. One lousy inch of snow that was only problematic because
MoDot didn't do anything to the streets
, and that's it. Where's my freezing rain? Where's the snow that comes down sideways? Where's that anus-puckering cold that turns every booger in your head to rock-hard consistency before you even take four steps off the porch?
February, I'm putting you on warning: You better be as cold and grim as Death, you runty little turd of a month. Snow's a good start, but ten or fifteen consecutive days of sub-freezing temperature would be even better. You wanna throw a Tuesday morning ice storm in there? I won't complain. Hell, you can take two of my toes -- your choice -- to frostbite.
And if one more person exhorts me to cheer up with a perky, "You should be enjoying this beautiful weather," I'ma stab them with an ice pick.