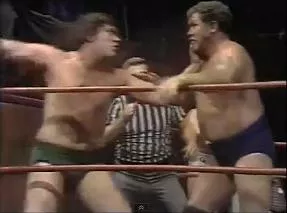 Ted DiBiase and Harley Race battle it out at the Chase Park Plaza, circa the late 1970s.
This Sunday St. Louis hosts the WWE's Royal Rumble. Some of the men who'll wrestle that night -- such as CM Punk and Ted DiBiase Jr. -- passed through Harley Race's Wrestling Academy in Eldon, Missouri, on their way to the big league (for more on Race, see last week's feature story Harley Race's Academy of Hard Knocks).
There a good chance Race himself will be in the crowd at Scottrade. His ties to St. Louis go back decades, back to when the professional wrestling industry looked almost nothing like it does today.
When Race began his career in the early '60s, the business was divided into territories. Fritz Von Erich ran Texas, Stu Hart ran Alberta, Rory Shire ran the San Francisco Bay Area, Verne Gagne ran Minnesota, Don Owen ran the pacific northwest, Vincent McMahon Sr. ran New York, and so on. Each circuit had its own roster of wrestlers and each circuit crowned its own champion.
But there was one place where the top stars from around the country would meet: St. Louis.
St. Louis held the headquarters of the National Wrestling Alliance, a collective of 32 major circuits, because Sam Muchnick, the long-time president of the organization, lived here. Muchnick founded the St. Louis Wrestling Club that hosted the weekly "Wrestling at the Chase," broadcast from the Khorassan Room of the Chase Park Plaza. The syndicated program featured dream matches between the biggest names in the business.
"It was the best place in the world to wrestle," says WWE hall-of-famer Terry Funk, who's had scores of matches at the Chase.
Folks in tuxedos and gowns sitting at cocktail tables surrounding the ring juxtaposed the groaning and grunting, creating a surreal spectacle for the 100,000 or so people watching on KPLR-TV Channel 11.
"There was no better place in the world to wrestle," says Race.
As the WWE swallowed up most of the major circuits through the 1980s, the NWA's significance eroded. Nowadays, St. Louis is a stop on a tour, no more exhilarating or hallowed than any other big city. But this Sunday, for a few evening hours, St. Louis will again be at the center of the wrestling universe.
-----
For more on St. Louis politics, boxing, hip-hop and miscellaneous social issues, follow @albertsamaha on Twitter.