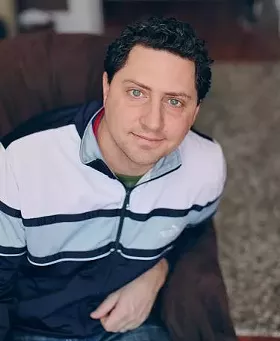 Matt Conty acts like Jose Oquendo; doesn't really look like him.
With a dry and nasal delivery,
Matt Conty
tends to saunter through his material, tossing in ironic urban lingo like a gifted-but-bored ESPN anchor.
But while he's all nonchalance on stage, fuck with him at your peril. He relishes the chance to veer off-script, and his insults are viper-quick.
In addition, the 35-year-old Conty has become something of a
Jose Oquendo
in the St. Louis comedy scene. He does it all, from emceeing and featuring, to organizing his own monthly show at Brennan's, to blogging, to coaching newbies on how to improve.
He'll be opening for
Louis Katz
tonight through Sunday at the
Funnybone in Westport Plaza
.
Daily RFT:
On your bustling new blog, Wtfatherhood, you've dialed in 106 posts of at least 1,000 words over the last four months alone. Are you trying to win a contest?
Matt Conty
: I think a book deal, or a writing job, like yours, would be a short term goal. Now I am thinking about how I can get you fired.
No, but your diligence is impressive. Is there some other blogger you're trying to emulate?
The Greatful Dead. Not the insane amount of coke or heroin, or 48-minute songs, or hummus. But they created their own market without a lot of industry influence, and I want to use this blog to create my own audience. Ideally, I could book some more unique venues based on readership of my blog in a certain area, without mainstream credits.
Has the writing affected your comedy?
Yeah, it forces me to write about mundane shit, and try and think of a funny angle on it. And I was having problems getting material stage-ready, so this helps....I think. Maybe not. Honestly, I'm just waiting for Twitter to raise its character limit to 3,000, instead of 140. I will be a fucking king when that happens.
The logo of Conty's blog.
It's called "Wtfatherhood," but sometimes you write about other stuff, such as "the urban rednecks" in your 'hood.
This neighborhood we live in, people are always like, 'Ah, it's all ghetto.' What they really mean is, 'There are a lot of black people down there.'
But the problem on our block - there's no black people, it's just these two ex-hookers and their mulleted-out boyfriends. God bless these guys, they're the most forgiving guys in the world, dating two ex-hookers.
We hear these guys outside every night. "You're a ten-dollar whore!" You know? Like, that's why he doesn't like her. Because she's the
cheapest
prostitute on the street.
Do you interact?
Yeah, because we have three dogs. And they love the hookers' house because it's full of weird smells and used stuff, you know. Like corks. "Lady corks."
Oh my.
It's a dog paradise. Every time we open the door, they run over there and sniff like there's a line of doggy coke, they can't get enough.
And the hookers have a dog, that poor thing. It got in a fight with our dogs. So the other lady that lives in there - she's not a hooker, she's like their aunt or something -- she approached me one day and was like, 'Your dogs attacked our dog. What are you going to do about it?' Like she was trying to get cash out of us on the street.
So we took her dog to our vet. And the vet didn't see how our little Boston terriers could've put that wound on its head. The vet said the real problems were that it had fleas and its hair was just falling out.
Such a great neighborhood. And you brought a child into that world.
Yeah! She's learning how to be 'street.' How to be 'real.'
So how is it, being a dad?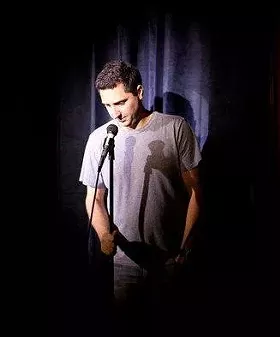 Matt rocks the mic, y'all
Here's what I know. Nobody gives a shit about your kid. My daughter is beautiful. But you haven't met her, and you don't care. You're not losing any sleep over it, right?
You've probably said to a parent, 'You have the cutest baby ever,' while in your head, you're thinking, 'What is that thing? That's not a cute baby.' But people say that to us and I'm like, 'You know what? You're right. You've got a good head on your shoulders. She IS a good-looking kid.'
Is she causing you problems crying at night and keeping you up?
Like the hookers? Well, there's been three nights when we thought, 'What the hell is wrong with you.' It's horrible. And you resent the kid. It's like, 'What do you want? There's nothing else to give you.'
Do you know what a colicky baby is?
Is that when they have a lot of gas in their tummies?
No one knows, it just means, 'My baby is psycho and cries all the time, and we're hollow shells of what we once were.'
If you ever see a couple and they look like ghosts, and their conversations are like, 'Fuck you.' 'Fuck you, too.' 'Fine, I'll change her.' That means they have a colicky baby. That's the definition.
Well. Congratulations.
Thanks. But no, I love it. I absolutely love it.
What's your day job, by the way?

I work for a medical device company. It's a real small start-up, so I've been comptroller, I was financial manager. I actually have a finance degree.
But eventually we got to the point where we didn't want the comptroller on the road four nights a week, cranking out dick jokes. So they put me into operations.