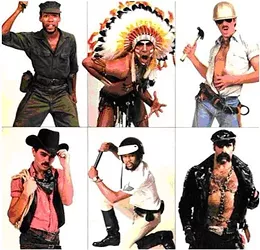 Image via
We got your "accessories to bank robbery" right here!
To their credit, St. Louis bank robbers -- apart from being scary/life-threatening -- do exhibit quite a flair for costumery. From The
Boonie Hat Bandit
, to the
Logo Bandit
, to the recent
cross-dressing fad
, their trunk is deep, and their tastes, varied. But check out this headline from today's Post-Dispatch:
St. Louis County Police Looking for Sharply Dressed Bank Robber

First of all, they will undoubtedly catch this crook provided he
never
changes clothes.
Secondly, shirt-and-tie? Snore. Time to
zhuzh
things up a bit. This is bank robbery.
Please vote in our poll...