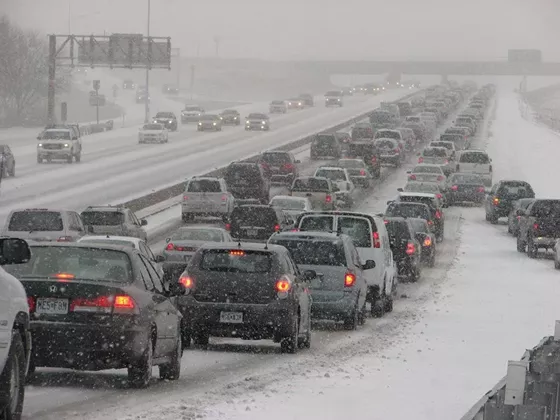 Note to MoDOT: You may not want to post photos like this one on your Facebook page during the next snow dusting.
You've heard the news. Chances are you even experienced it firsthand. Yesterday's one-inch snowstorm caught the Missouri Department of Transportation completely unprepared.
The agency failed to pre-treat interstates with salt brine despite weather reports that the region would pick up snow. Instead, MoDOT began spreading salt when the storm hit around 3 a.m. But that plan backfired when MoDOT's trucks soon became entangled in morning traffic, leaving roads icy and slick.
Yesterday MoDOT's director Kevin Keith,
admitted his crew failed
. "We didn't do a very good job and my reaction to that is I'm disappointed," he said.
MoDOT's Facebook friends had even harsher criticism of the department yesterday. Here are some of the highlights we found: