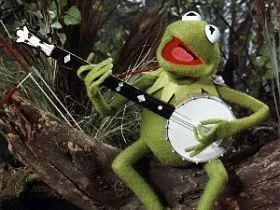 Note: This research does not explain the enduring attraction between Kermit the Frog and Miss Piggy.
Springtime, soft breezes, moonlight, music...the perfect setting for seduction, whether you're a romantic-minded human or a tree frog. But don't think the female tree frogs aren't any more picky than humans just because they happen to be, well, frogs. If a female tree frog doesn't like a dude's music, she'll just hop away, leaving him to warble to the moon by his own sad self.
Can it be that tree frogs have an inherent aesthetic sense when it comes to frog-song?
Alas, no. Female tree frogs are after just one thing, and the male frogs' song tells them if they're going to get it.
Turns out there are two types of tree frogs in Missouri, the eastern grey tree frog and the Cope's grey tree frog, and it's impossible to tell them apart just by looking. This applies not just to human scientists, but to female tree frogs as well. The most significant difference between them, which ensures that the female frog is going to get her eggs successfully fertilized, is that the eastern grey tree frog has twice as many chromosomes as the Cope's grey tree frog.
Obviously, a female frog can't request a complete report of a potential mate's genome. She can, however, as scientists at the University of Missouri have recently learned, listen to his song, which lets her know if her suitor has the right number of chromosomes.
"The males are both singing the same love song -- just one frog is singing it slower," explained Mitch Tucker, a doctoral student who worked on the project, in a news release. "It's kind of like the difference between Eric Clapton's original and unplugged versions of 'Layla'."
The eastern grey tree frog, which has more chromosomes than the Cope's grey tree frog, has correspondingly larger cells, which slows down the rate of its trilling.
In order to test his hypothesis that the tempo of a song drives a female tree frog into the arms of a suitable mate, Tucker and Carl Gerhardt, a professor of biology, created, in their lab, the ideal romantic situation for frogs: spring-like temperatures and speakers that played computer-generated frog-song, both fast and slow. He let full-grown female frogs loose and noted in which direction they hopped. True to theory, the Cope's grey tree frogs gravitated toward the faster music while the eastern grey tree frogs were more attracted by the slow jam.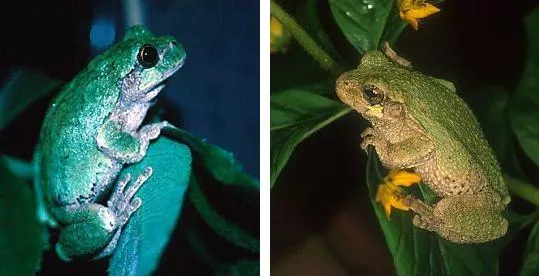 The two tree frogs. The eastern grey is on the left.
This explains why, even though the two species of frogs live alongside each other, they have never interbred. It also points to larger implications about the origin of species.
As Gerhardt put it: "This shows that chromosome number alone can control the behavior that keeps the species separate," Gerhardt said. "In turn, as chromosome number increases, so does the size of cells, which is probably the immediate cause of the changes in calls and preferences."
Tucker and Gerhardt have published their findings in the journal Proceedings of the Royal Society B-Biological Sciences.