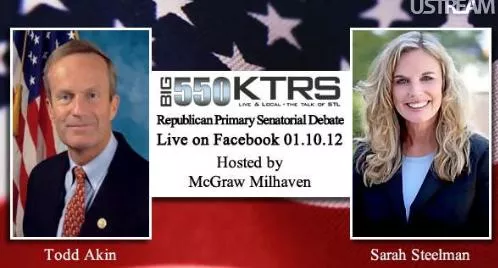 This is kind of cool -- not because of the debate but because of the technology behind it. Today at 9 a.m. Republican senatorial candidates Todd Akin and Sarah Steelman will face off in a debate at the Missouri Athletic Club West to be broadcast simultaneously over both the radio waves and Facebook.
KTRS (550 AM) radio personality McGraw Milhaven tells Daily
RFT
that it's the first political debate he knows about that has streamed live over Facebook.
"I've been telling people how we plan to broadcast the debate, and their response has been, 'No, you can't do that. Can you?'"
Viewers at their computer can log into the Facebook page of
The Big 550 KTRS
or
The McGraw Show
and click "Live Political Debate." That link opens up a video feed that will allow viewers to make comments and ask questions during the the one-hour forum. McGraw and co-moderator Jo Mannies of the
St. Louis Beacon
will monitor the thread for questions to ask the candidates during the debate.
Businessman
John Brunner
, another Republican candidate looking to unseat Democratic incumbent Claire McCaskill in November, declined to participate in the debate. That left just front runners Akin, a current congressman, and Steelman, the state's former treasurer, to square off this morning.