Yesterday's list of the 10 Most Heinous Crimes of 2011 may have made you want to weep for the evil of humanity. Today we bring you the 10 Stupidest Crimes of 2011 in and around St. Louis (listed in order of dumb to dumber), which may also make you want to weep, but this time for stupidity. Or you may consider it a hopeful sign that, despite everything, humanity somehow survives.
10. Rock, Chalk, Naked as a Jayhawk
It's still unclear why 45-year-old Donald Watson was wandering naked through the backyards of Springfield, Missouri, one evening last April. Nonetheless, Watson did what anybody stuck in such a nightmarish situation would do: He broke into a house and stole some clothes. Unfortunately, the clothes he happened to steal were a pair of shorts and T-shirts emblazoned with the University of Kansas Jayhawk. And this wasn't just any KU memorabilia: This was Jason Chambers' lucky outfit, which he wore during every game of the 2008 basketball season and which sustained the team through its NCAA championship run!
Chambers retired the togs after KU had the championship safely in hand, but nailed them to the wall for safekeeping. Though he'd moved out of the house the week before, he'd planned to return in a few days reclaim them. But Watson spoiled that. The clothes were taken into police custody after Watson was discovered hiding in Chambers' old attic. They are also now covered in blood after Watson's unfortunate run-in with a police dog.
The story has a semi-happy ending. After officials in the KU athletic department heard Chambers' sad story, they were so impressed with his school spirit that they sent him a new set of clothes. Alas, they lack whatever ineffable quality it was that made the old outfit so magical.
9. Mad As Hell and Not Gonna Take it Anymore!
After Roy Conger lost his job, the 42-year-old Collinsville resident petitioned the Madison County courts to reduce his child-support payments to a level he could afford. Last August a judge denied the motion on grounds that Conger had lost the job due to his own actions. Yes, Roy had a bit of a temper. A few months earlier, in April, his ex-wife had filed for an emergency order of protection against him. Among the documents she presented to the court was a letter Conger had written to a state agency after a lien was placed on his bank account. "You will hear about me and read about me. I promise that," it read.
Conger made good on that promise. Early in the morning of August 29, he attempted to back his tractor trailer into the Madison County courthouse in Belleville. That would teach them a lesson!
Sadly, the tractor got stuck on the courthouse steps. Conger panicked and ran, but turned himself in at the county jail a few minutes later.
Nobody makes Chad R. Johnson leave a party before he's ready. Nobody.
8. Lessons in Party-Giving
Nobody likes to leave a party before they're ready. It leads to resentment. (Somewhere Miss Manners is nodding her head in sage agreement.) Case in point: Chad R. Johnson, 22, of Springfield, Missouri. At a shindig last June, Johnson was acting "disruptive," according to reports in the Springfield News-Leader. His hosts asked him to leave. Johnson complied...only to return a few minutes later in his car, which he drove onto the lawn. Two partygoers ended up on the hood. When Johnson shifted into reverse, he knocked over a third guest.
Moral of the story: When you kick someone out of a party, be sure to confiscate their keys and arrange for someone to take them home.
7. Funny Money
As long as we're dispensing life lessons, here's another: When you steal a large sum of money, say $1,000 cash, for God's sake, make sure the bills aren't marked!
That's what one sad soul in Dellwood learned this past September, after he went to the trouble of learning that a resident in group home for mentally-disabled adults kept the cash in his room and then dressing up in a hockey mask a la Jason in the Friday the Thirteenth movies and breaking into the house to steal it. Only then did he learn that the rightful owner of the money had taken the precaution of ripping each of the bills in half and writing his name on them. All police had to do to catch the thief was notify local banks. So much for that effort.
Don't talk in the library or she and Dave Wrobel will shush your ass!
6. Shut the Fuck Up!
All Dave Wrobel wanted was a quiet place to study. The 55-year-old south county resident lives 50 minutes from the University of Missouri-St. Louis campus, where he takes classes, and finds working at home, with ready access to the TV and refrigerator, too distracting. But he could find no peace at the Tesson Ferry branch of the St. Louis County Library, either, because one February evening this one guy at the next table would not stop talking on his cell phone. Even after Wrobel pointedly placed one of the tabletop signs with the library's cell phone policy in front of the talker. Instead the guy looked up, flipped Wrobel off and mouthed "Fuck you" for good measure.
Wrobel appealed to the librarian for reinforcement. She got the man to end his call, but after she returned to her desk, the man looked over at Wrobel and said, "I'm going to beat your fucking ass. I'm going to wait for you outside." And then he left. And clearly, what choice did Wrobel have but to abandon the exam he was working on, warn the librarian to call the cops because there was going to be "an incident," follow the guy outside and beat him up so badly that he required an ambulance? Didn't he know you're not supposed to talk in the library?
"My intent was not to pulverize him but to defend myself," Wrobel told Daily RFT afterward. "Why else would I have told the librarian to call the cops?"
His appeal failed to move St. Louis County Library brass. Both Wrobel and the cell phone talker were banned from the library for 90 days.
5. Mean Mama
It's true that store return policies can sometimes be confounding and frustrating. A heavily pregnant 37-year-old woman decided to take out her frustrations at Victoria's Secret's corporate policy by assaulting the manager of the St. Louis Galleria store. Police were summoned. But just as they were physically separating the two women, the pregnant lady's water broke. Instead of a trip to the police station, she got a ride to the hospital. And there you have a useful, though extreme, strategy for avoiding arrest.
4. Breaking and Bacon
Damon Petty must have been hungry. Why else would the 36-year-old burglar interrupt his break-in of Kenya Ealy's home in University City to fry up some bacon? (Bacon is pretty hard to resist.) Ealy caught him in the act -- and also with some of her possessions in his pockets -- and called the police, who arrested Petty on charges of first-degree burglary and took him to the St. Louis County jail. The watch commander assured Daily RFT that Petty would, like all other inmates, receive a hot breakfast.
Angela Fletcher, without her cell phone.
3. Text Message Maniac
In July of 2010, Angela Fletcher, 37, and her boyfriend Nicholas Barrale, 28, obtained orders of protection against one of their co-workers, a St. Louis woman who had been sending Barrale hundreds of threatening text messages. (Example: "angie will be torchered and raped alot then killed her body wont be found this will be taped so we can watch it i hate the fucking cunt she will die".)
But the messages kept coming. Fletcher and Barrale would eventually file seven separate complaints. The Clayton police arrested the other woman for violating the order of protection. Twice.
And then this past July the cops finally bothered to trace the source of the text messages and they made a shocking discovery: The phone was registered to Fletcher's mother. It had been Fletcher who was sending the messages. All 897 of them.
Amazingly, Barrale remained loyal to Fletcher: Even after her arrest, he was still identified as her boyfriend.
Fletcher, meanwhile, neglected to show up for her sentencing in August. She said she had an appointment with her hand doctor. Maybe it's true that too much texting leads to carpal tunnel.
It came straight from the bottom of a Cracker Jacks box.
2. "I'm a Homeland Security Officer, Honest"
It's true that even a decade after its founding, the Department of Homeland Security remains a mysterious entity. So perhaps it was no wonder that, faced with repaying his ex-girlfriend the $138,000 she had lent him over the course of their five-year relationship, Mark Chartrand, a 40-year-old youth soccer coach, told her he was an undercover agent with Homeland Security and that he would pay her back very soon because the department owed him $1.5 million in compensation for "extraordinary service."
Try saying that with "FBI" or "CIA" or even "Treasury Department." Yeah, "Homeland Security" sounds way more believable.
Chartrand was thoroughly committed to the deception. He forged letters from the federal government, phony intelligence reports to "prove" he was undercover and bank statements showing that he'd been paid, only the wire transfer had screwed up.
His ex finally got fed up and went to the police. Now, in addition to still owing the $138,000, Chartrand faces a $250,000 fine for impersonating a federal officer and/or three years in prison.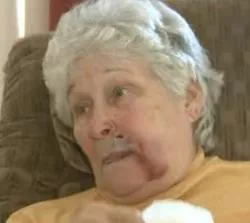 Margaret Shofner, post-doughnut, post-arrow-removal.
1. One Tough Granny
Margaret Shofner, 80, was babysitting her great-grandchild and peacefully eating a chocolate doughnut one July morning in St. John when an arrow smashed through the kitchen window and lodged itself in her face, just above her lip.
"I pulled it out and laid it on the table," Shofner told the three television news crews who had gathered in her living room afterward. "That's when I realized what it was."
Shofner waited an hour to seek medical attention, until after her grandson came home to relieve her of babysitting duty.
The arrow, it turned out, belonged to a neighbor, 26-year-old Robert Joiner, who had been practicing archery in his backyard with a compound bow. The arrow had ricocheted off a hay bale before flying through the window and hitting Shofner. Joiner had continued shooting, oblivious, until St. John police came to arrest him on charges of second-degree assault.
That evening, KTVI, KMOV and KSDK ran the story at the top of their newscasts, almost simultaneously, in what then-Daily RFT news blogger Chad Garrison called "a truly remarkable moment in St. Louis television history."