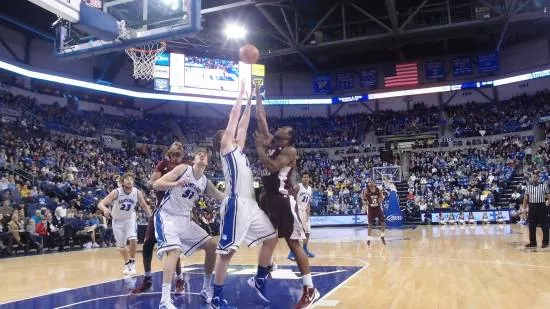 Albert Samaha
Brian Conklin and company held Texas Southern to 39 points on 30.6 percent shooting.
The biggest lead was 37 points. When the starters were pulled with a few minutes left in the game, Saint Louis University was shooting nearly 60 percent from the floor. Last night, the
Billikens
did what good teams are supposed to do against overmatched opponents, blowing out the visitors 71-39 to bring their record to 12-1.
The difference between the two teams was apparent from the start. The boys in blue, as usual, found and made open jumpers and lay-ups with silky ball movement while the Tigers struggled to get loose from the crisp rotations and timely help defense, squeezing out baskets primarily through a scatter of fall-away jumpers and isolation drives to the hoop.
SLU pulled away midway through the first half on a 17-0 run that stretched their lead to 30-10. During that seven-minute streak, the Billikens shot 7-11 and forced the Tigers into nine turnovers. In all, the squad scored 31 points off turnovers.
"I though we came out with a good effort, we played with purpose," said head coach Rick Majerus, before carping over his own team's 12 turnovers. "It's a hard game. It comes to be a bastardized game. They're not a good team, I understand that, but we played up to our standard."
The Billikens' defense controlled the flow. Texas Southern flipped on a mildly effective full-court press early in the game, but they rarely got to use it since the home team often began their possessions halfway up the court thanks to rebounds and takeaways. Junior guard Kwamain Mitchell and sophomore guard Mike McCall Jr. snagged three steals a piece, helping drag their opponents into 19 turnovers.
"The press got to us a little bit," said senior guard Kyle Cassity. "But other than that, we did okay. It caused a little problem and we gotta work on it, but we got a couple days here."
Senior forward Brian Conklin led the scoring with 15 points on 5-7 shooting, most of which came open 12-15 foot jumpers or fast break lay-ins. Mitchell chipped in nine points and five assists with no turnovers. The team built up a 41-19 lead at halftime despite hitting just one three-pointer. They didn't need to take many, since they slapped in 21 points in the paint through the first twenty minutes of the game.
"As long as you run the plays, you get good shots and that's one of our strengths," said Cassity.
SLU chased their strong first half with an 18-2 run through the first ten minutes of the second half. At that point the only excitement was left for those making spontaneous "over-under 35 for Texas Southern" bets.
Texas Southern fell to 1-10. But this record is a bit misleading. After all they are defending Southwestern Conference champions and their demanding non-conference schedule has included trips to Baylor and Michigan State. Their visit to Chaifetz Arena marked their ninth straight road game.

"We played together as a team," said Majerus. "But this team we played, these poor guys have been on the road for so long.... This game is what it is. We bought the game, they made a lot of money on it. They want to win their league and they have won their league."
The Billikens have one more game to go before they get a shot at their own league. They next play at New Mexico, in The Pit, this Saturday.
-----
For more on St. Louis politics, sports, hip-hop and miscellaneous social issues, follow @albertsamaha on Twitter.