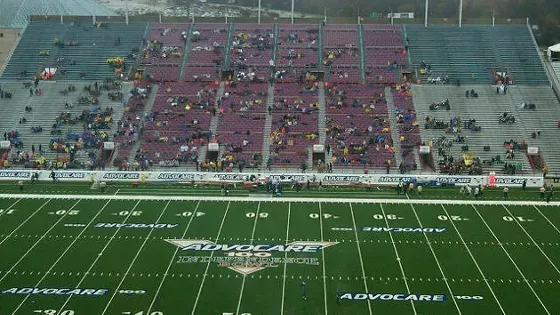 Couldn't make it to Shreveport yesterday? Join the, uh, crowd?
If you watched the Independence Bowl yesterday, you got familiar with the image above. Amazingly, ESPN kept showing shot after shot of the stands despite the fact that hardly anyone was at the game.
The picture above was snapped a few minutes before kickoff. Perhaps a dozen more people showed up by halftime. Seriously. We've seen more people at a high-school football game -- featuring the junior varsity squad!
Organizers of the Independence Bowl claim that nearly 42,000 tickets were sold for yesterday's match up between the Missouri Tigers and North Carolina Tar Heels.
The
Post-Dispatch
this morning estimates that perhaps a
quarter of ticket-holders
actually attended the rain-soaked game in Shreveport that saw temperatures hover in the mid-40s throughout the afternoon. The
Durham Herald-Sun
was a bit less optimistic. It predicted that perhaps
twenty percent of ticket-holders
showed up for the game.
Both guesses seem wildly inflated to me. I'd estimate that perhaps 3,000 people were in the stands -- or approximately seven percent of ticket-holders.
Anyhoo, in the end all the really matters for Mizzou fans watching the game from the comfort of home is that the Tigers prevailed, routing the Tar Heels 41-24.