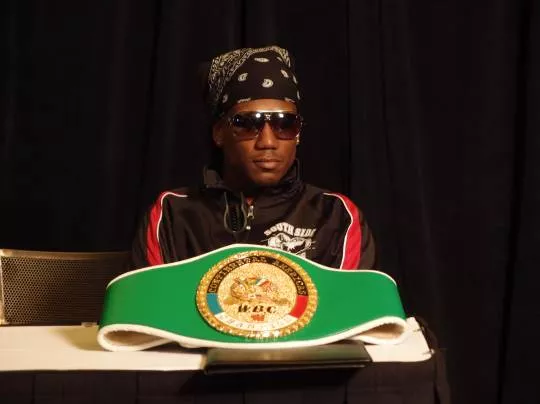 Albert Samaha
Dannie Williams with his WBC Continental Americas lightweight title.
Update 10:25 p.m. to show that Williams is not scheduled for the televised portion of the card.
ESPN's Friday Night Fights
makes its season premiere on January 6. And for the second time in five months, St. Louis native
"Dangerous" Dannie Williams
will box on the card (opponent to be announced).
But unlike in August, Williams is not scheduled for the televised portion of the event. It's easy to see why the shot callers at ESPN should want to feature Williams (20-1 with 16 KOs). He is not just a fast-rising lightweight contender. He is a fast-rising lightweight contender who knocks the tonsils out of people. Of course, this same line of reasoning might also be why he has yet to find a foe for January 6. (His last few bouts have been against lackluster fighters.)
Unless there is an unexpectedly quick finish in one of the headliners, Williams will showcase his coldblooded right hook to only the spectators at Mallory Square in Key West, Florida.
Regardless, they may be in for some fireworks. Here are clips of his last two fights, both ending with spectacular knock outs:
(August 12 round 4 KO versus Antonio Cervantes on ESPN.)
(November 18 round 2 KO versus John Willoughby.)
-----
For more on St. Louis politics, boxing, hip-hop and miscellaneous social issues, follow @albertsamaha on Twitter.