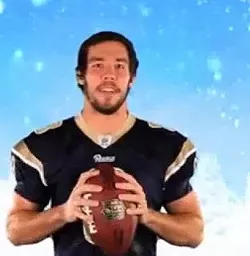 And how do they hope to accomplish that?
A. By winning their last two games to improve their 2011 win percentage from .166 to .250?
B. By intentionally losing their last two games in order to get the team a higher draft pick?
C. By sending out a
virtual holiday card
wishing you and your family a happy holiday.
If you guessed C, you are correct!
Curiously, the e-card contains the few members of the "Rams family" who can't really be blamed for this year's abominable season: Sam Bradford, Steven Jackson, Chris Long, a cheerleader and the Rams mascot. That's right coach Steve Spagnuolo doesn't make the cut.