Ho-ho-ho: Kendra Holliday models her outfit for tonight's Fleshtivus.
Okay, okay. So not all the 40 people expected to attend tonight's "Fleshtivus" party are nudist, per se. Some are exhibitionists. Others label themselves as "sex-positive" -- believing that their sexuality (and exposed genitalia) is nothing to be ashamed of. A handful may not get naked at all. They'll just take in the scenery.
"It's a clothing optional party," explains organizer
Kendra Holliday
. "It's whatever you feel like. Some people may just be topless. Some might wear an open robe. Of course, I'll be naked the whole time -- you've got to lead by example."
Members of the website
Sex Positive St. Louis
have been hosting naked parties every other month for the past year, with tonight's first-ever Fleshtivus a spin-off of the
Seinfeldian holiday, Festivus
.
"Instead of airing your grievances (like Festivus), we'll share with each other our biggest regret of the past year," says Holliday. "There's something about sharing your personal disappointments while naked that opens you up to a new level of vulnerability. It can be very cathartic."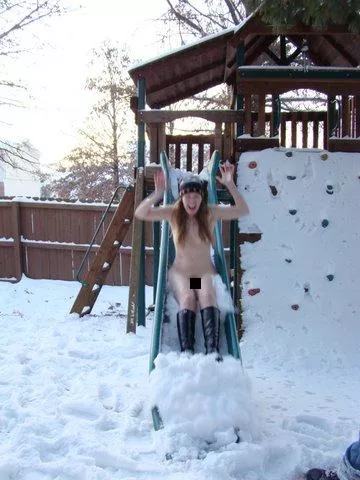 Know what else is cathartic? Sliding naked into the snow.
Fleshtivus isn't for everyone. Those attending tonight's gathering -- taking place at an undisclosed south city home -- have all been personally vetted by party organizers.
"We tell people interested in coming to our naked parties to first attend one of our happy hours or other clothed get-togethers," says Holliday. "We're not going to judge you on attractiveness. We just want to weed out any sex offenders or sociopaths."
An open robe is another way to present yourself for Fleshtivus.
The female-to-male ratio of those attending Fleshtivus is expected to be pretty even, though men always tend to RSVP first for the nude parties. (A healthy discussion on that phenomenon can be found over at
Sex Positive St. Louis
.)
One might think that a clothing-optional gathering in the middle of December would be less than ideal for the gentlemen, especially considering cold weather's effect on their anatomy. (Another
Seinfeld
topic,
"shrinkage"
comes to mind.)
Hogwash, says Holliday.
"When I see men walking around flaccid, that's very comforting. I think the bigger insecurity for men is that they'll get an erection at the party."
Not that tonight's shindig is necessarily sexual. Fleshtivus isn't an orgy or a cuddling party or even a swinger's gathering. It's just a holiday party, sans clothes. In addition to bringing a snack and a towel to sit on (so as not to dirty the host's furniture) partygoers are encouraged to bring a gag present to share in a gift exchange.
So, how many guys do you think will be bringing a
"Dick in the Box"
?
"Ooh, I hadn't thought about that," says Holliday. "Though I think most everyone attending already has all that they need in that department. A fruitcake might be better."