Albert Pujols's farewell letter to St. Louis that ran as a full-page ad in the Post-Dispatch last week inspired anger and tears in equal measure. But, as some readers pointed out, farewell letters to the city are nothing new, though of course few who have left the city have been able to afford full-page newspaper ads. Unreal spent a few hours rummaging through various archives and found these bits of ephemera:
Garry Templeton, the Cardinals' switch-hitting, All-Star shortstop, was a man of few words. In a late-August game back in 1981, he responded to some hometown hecklers with an obscene gesture. The Cards traded him to the San Diego Padres at the end of the season for a light-hitting SS named Ozzie something.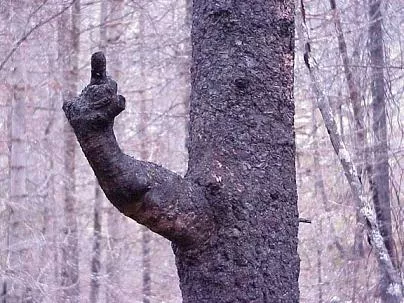 From Tennessee Williams, playwright, composed sometime in the late 1930s. The writer was too distraught to note the date.*
*Note: This is a facsimile, as the original was covered with cigarette burns and wine stains and too fragile to leave the glass menagerie, sorry, archive.
From St. Louis Brown Eddie Gaedel, the best -- and only -- midget to play major league baseball: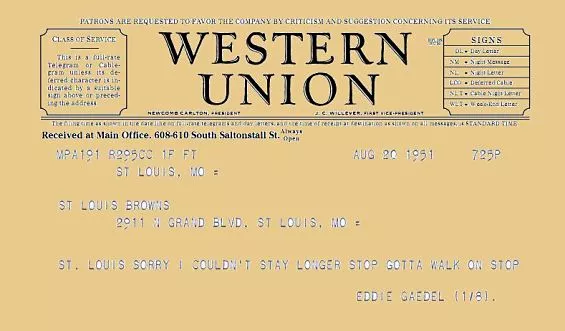 A faithful transcription of the second and final farewell letter from explorers Meriwether Lewis and William Clark from September, 1806:
Farewell friends,

We realize we said that two years ago, when we set out on our westward journey, but this time we really mean it. The whole time we were gone, we thought of you and your fair city with fondness and even affection. Then we got back here and espied our old campground at the confluence of the great rivers and remembered just how bored we were that winter, waiting for the ice to melt. We realize now we only yearned for beds and roofs over our heads, fine mugs of ale, and all the other comforts of civilization, and we can find those just as well in Washington, DC, in addition to the admiration of fair ladies and scribblers eager to take down our every word. So farewell, and goodbye. Fame and glory await us! Also, President Jefferson, in his gratitude, has promised us full access to his wine cellar, and don't pretend you would dream of passing that up.

We remain, Capt. Meriwether Lewis and Capt. Wm. Clark
From Phyllis Diller, undated. She evidently knew even then not to leave any clues as to her true age.

Discovered in the papers of Irma Rombauer, author of The Joy of Cooking. It's probably for the best that this recipe never made it into the book:
Transcription of a note from ballplayer Harry Steinfeldt, written in pencil on the back of a vaudeville playbill from 1906:
Yeah, I know I told you all I was gonna be a vaudeville star, but you know what? Turns out I play third base better than I sing and dance. So I'm off to Chicago to play for their ball club -- they're calling themselves the Cubs nowadays, and they've got a dandy infield, Tinker and Evers and Chance. I think Steinfeldt to Tinker to Evers to Chance has a nice, poetic ring, too. Otherwise, I'll just be happy to be immortalized as the answer to a trivia question. Remember your old pal Harry Steinfeldt. You'll never know when my name could come in handy.
Written on a postcard bearing the image of the Triborough Bridge and the legend "Greetings from New York":
Friends,

The future ain't what it used to be. The Cards didn't sign me. The Yanks did. If there's one thing I've learned in life, it's when you arrive at a fork in the road, take it. Also, if the world wasn't perfect, it wouldn't be. So I'm going to New York. If you don't know where you are going, you might wind up someplace else. New York is pretty far, but it doesn't seem like it. I'm a lucky guy and I'm happy to be with the Yankees. And I want to thank everyone for making this night necessary. One thing I'll always remember about St. Louis: It's not the heat, it's the humility.

Sincerely, Larry "Yogi" Berra

P.S. -- I never said most of the things I said.
And, finally, this from William S. Burroughs: