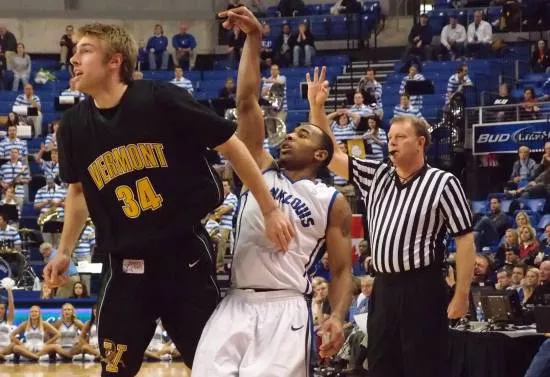 Albert Samaha
Kwamain Mitchell puts up a long range jumper over Catamount defender Matt Glass in the second half of the Billikens' 62-43 win.
Forty-five minutes before tip-off, a man in a black beenie and black jacket with fur-lined hood was shuffling down South Compton Avenue shouting at the packs of fans across the street headed toward Chaifetz Arena.
Excuse me, anyone got tickets for tonight?
Hey you! You got tickets for the game?
Anyone got tickets to the game?
It was a strange sight for a Wednesday night Billiken game against Vermont. But, the way the squad's been playing, you can't really blame the fellow. One can only hope he found some tickets soon though, because seven minutes into the game the boys in blue had already run up a 20-7 lead, scoring nine buckets to just one miss on their first eleven possessions.
The game never really got too much closer than that. Behind suffocating defense and timely hot streaks, the Billikens cruised to a 62-43 win.
The Vermont Catamounts, who fell to 4-5, are a solid team with a proud basketball program. They have four of five returning starters from last year's NCAA tournament team. The program, of course, holds a special place in the hearts of all those who won money and their brackets with Vermont's memorable March Madness upset of Syracuse back in 2005. It's unclear if even T.J. Sorrentine and Taylor Coppenrath could have rallied the Catamounts past SLU on this night, though.
The Billikens shot 61 percent from the field in the first half. Then they rattled off an 18-4 run to start of the second, stretching their lead to as much as 25. The offensive attack was balanced -- no player scored more than ten points -- and the defense forced Vermont to expend marathon-like energy for each basket.
"That chemistry aspect is here this year," junior guard Kwamain Mitchell said after the game. "My freshman and sophomore year feel really different compared to this year's team."
Throughout the contest, sophomore forward Dwayne Evans did athletic things, on his way to a ten point, ten rebound performance. He blocked a three point attempt. He corralled a teammate's missed free throw by out-reaching a handful of Catamounts and tipping the ball three or four times in the air to himself, like an eighth grader playing three flies up with a bunch of sixth graders. It was one of his four offensive boards.
"I gave him the article in the USA Today about [Luc] Mbah a Moute with the Bucks and how valuable he is because he can rebound, he can defend, he's safe with the ball and he's kind of a cerebral player," said coach Rick Majerus. "Dwayne can be that player."
On the other side, the Catmounts' top guys could never get going. Their only two effective scorers on the night, sophomore forward Luke Apfield and senior forward Matt Glass, were hindered by foul trouble, combining for nine fouls and 25 points on 9-13 shooting. Their rugged wing Brian Voelkel, who averages nine boards, five assists and five points a game, was shut out in all three categories. His only claim to fame on the night was drawing "Shoooooot!" taunts from the student section every time he got the ball and the Billiken defender, aware of his jump shot deficiency, laid about eight feet off him.
"I think a big thing is we just trust each other on the court," said Evans. "We know that guys are gonna make plays, willing to make the one more pass to a shooter or to a drive. We just trust each other with decision making and it's made a big difference."
Now, it still wasn't one of the Billikens' sharpest outings of the season. Between the runs at the start of each half, there were too many turnovers-- a total of 17 for the night, many of them zipped passes through slippery hands-- and too many missed free throws-- the team hit 8 of 13.
"It was like one of those Tale of Two Cities games," said Majerus. "I thought we played our ass off in the second half."
This gave Majerus the chance to look back at his team's 19 point win and reason that the week's final exam schedule must have sapped some of the players' strength. For instance, senior forward and leading scorer Brian Conklin, who had ten points, five rebounds and four turnovers, has two tests on Thursday and senior guard Kyle Cassity, who had five points and four assists, has one.
"And then three other guys got a test tomorrow," he added. "But still, how hard is it to catch the ball? A lot of those turnovers we had, you know, we got cute. We got steals and we tried to do something."
Blue books and scantrons, though, are certainly less of a burden than taking a year off from Division I basketball, which is what Mitchell did after getting caught up in sexual assault allegations last year. Mitchell, who scored ten points in 28 minutes, continued to play below his peak standards on Wednesday. It wasn't a terrible night for him; a second half three made him the 25th player in school history to surpass the 1,000 point mark. But he turned the ball over four times and never quite controlled the flow of the game the way a top-notch point guard should.
As he works to regain his shooting touch, he explained, his goal is to be more of a pass-first point guard. Against Vermont, he appeared wary of pushing too hard and knocking the offense out of rhythm-- only two or three times did he try to take his man off the dribble out of a half-cout set.
"Definitely the year off has hurt him, and he's working his way back," said Majerus. "You can't go up and sit in Milwaukee [Mitchell's hometown] and-- it's like that movie Girl Interuppted. But he's done a good job for the most part. He gets a little frustrated and I know that."
The Billikens next play Illinois-Springfield on Saturday afternoon. We can only hope for more fantastic Rick Majerus movie analogies.