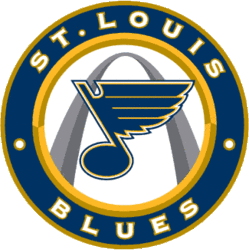 Over the weekend, the
Blues
faced perhaps their first real bit of adversity since
Ken Hitchcock
took over as head coach, losing two games in a row and struggling badly against
Chicago
in the second loss. Coming out of back-to-back letdowns, last night's matchup with the always-hated
Detroit Red Wings
had added significance. We've seen this team play some brilliant hockey since the coaching change, but we haven't really seen them have to bounce back.
Consider the trial passed, as the Blues pulled out a tough 3-2 victory and moved into a tie with the Red Wings for second place in the Central Division with 33 points. It was exactly the sort of win we've seen from this Hitchcock-led team: a tough defensive clamp job and juuuust enough offense. There was one very notable, and very important, difference, though. Last night the Blues finally won with special teams play.
The power play and, to a lesser extent, the penalty kill have both been significant bugaboos for the Blues this year. They've been unstoppable playing at even strength, but on special teams it's been another story entirely. Last night, though, the Blues picked up a pair of power play goals and killed off almost every man advantage the Red Wings could throw at them. It wasn't perfect, but it was a win. And that's plenty good enough.
Notes after the break.
You could see how well the Blues' defense played last night, not only in the score, but in the way the Red Wings reacted. The referees called what I thought was an unnecessarily tight game, but at the same time Detroit committed some really foolish penalties I've never seen from a Red Wing team. You could see the frustration in the body language of the Detroit players, and you could see it bubble over several different times, leading to sloppy, undisciplined play and a couple of really bad penalties. In fairness to the Red Wings, I think I would have gotten pissed and tried to take out Brian Elliott too if I were playing 80% of the game in my own end.
T.J. Oshie played a monster of a game last night. If Oshie was on the ice, he was within five foot of the puck. Every time Detroit tried to do anything, there was Oshie. Breaking up the play. Throwing his body around. Hassling, harassing, everything. He was outstanding, and really has been most of the season. Since the coaching change, though, Oshie seems to have elevated himself to another level entirely. He's been unbelievable, and is the number one reason the top line has been so good of late.
Patrik Berglund should be shooting the puck more. Every time I see him actually wind up and really let one go, I'm always shocked how well he shoots the puck because we just don't see nearly enough of it out of him. The slapshot goal he sent to the top short side corner last night on a fast break was one of the single most impressive goals I've seen a player make in the NHL this season. Berglund has the size, strength, and the shot to be a real weapon. Why he plays like a finessey, pass-first small wing I don't quite understand.
The referee who called David Perron for goaltender interference late in the game last night should be ashamed of himself. One of the worst calls I've ever seen. Perron was pushed from behind, which doesn't qualify as interference anyway, and then to cap it off Wings' goalie Jimmy Howard jumped on top of Perron and started wailing away. Somehow, though, the goalie didn't get a penalty called on him. I would never call for a player to face retribution from another team, but if I'm a Blues player this morning I'm probably thinking about crashing the net a little extra hard next time I see the Red Wings. The call was an absolute disgrace, and the fact that referee will still have a job at the end of this week is a joke.
I could nitpick and say the Blues won't be able to get away with scoring three goals or less every night forever, but I'm not going to. Howard played an outstanding game in goal for Detroit, and in reality the Blues could easily have had two or three more goals if not for his work in net. The Blues bounced back from their worst performance under Ken Hitchcock with one of their best. They absolutely dominated a very good Detroit team, and if not for some serious officiating hijinks late in the game it would never have even looked like a close game.