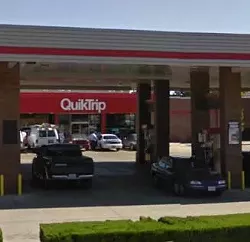 QuikTrip was accused before of price cutting.
You love their corndogs, taquitos and bathtub-sized fountain drinks. And the cheap gas isn't bad, either. But is QuikTrip's low-priced petrol illegally inexpensive? That's what a
lawsuit filed last week
in federal court contends.
Members of the Association of Independent Gas-Station Owners claim that QuikTrip began a "price war" on July 1 (that continues today) in which the Tulsa-based chain has priced its gasoline below cost.
"The predatory price war engaged in by QuikTrip has caused injury to competition in the retail sale of gasoline in the St. Louis marketplace, which will ultimately cause harm to consumers in the form of higher gasoline prices dictated by QuikTrip," writes plaintiffs' attorney Eric Vickers.
The lawsuit further alleges that QuikTrip violates the Robinson-Patman Act that prohibits predatory price cutting and the Sherman Act that regulates monopolies. It notes, too, that the Missouri Attorney General filed a similar suit against QuikTrip in 1999. QuikTrip lost that case in the Circuit Court, but ultimately prevailed when the case reached the Missouri Supreme Court and justices threw out the lower court's ruling.
"The circuit court's decision is premised on the theory that QuikTrip's sales of motor fuels below cost apparently diminished the competitor's profits," wrote the Supreme Court in its
2004 opinion
. "This is not sufficient to make a viable claim for unfairly diverting trade or causing "injury" to a competitor. The state's claim is, thus, unsupported by evidence of unfair diversion of trade or of injury to a competitor."
QuikTrip has yet to respond to the latest allegations.
In September, Vickers filed another lawsuit representing "Go West Mart" (one of the stations involved in the recent QuikTrip complaint) in which the
owner of the north St. Louis gas station sued the city
over plans to build a Love's truck stop next door that he claimed would hurt his business.