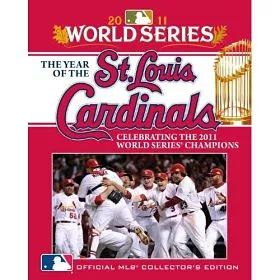 Here's your weekly St. Louis bestseller list for the week ending November 27, as compiled by the St. Louis Independent Booksellers Alliance and based on sales at Left Bank Books, Main Street Books, Pudd'nhead Books, Subterranean Books and Sue's News.
It's that most wonderful time of the year when the most overwhelming temptation is to go into hibernation for five months or so. But this year it looks like St. Louisans are going to fight back and go exploring. Or at least plan to. So this week's number two bestseller (behind Walter Isaacson's Steve Jobs, which is also appearing on many critics' and booksellers' top ten lists, including Nikki Furrer of Pudd'nhead Books) is a home-grown guide to the city: Finally, A Locally Produced Guidebook to St. Louis by and for St. Louisans, Neighborhood by Neighborhood by Amanda Doyle. The title pretty much says it all, except that Doyle goes far beyond St. Louis itself, from Wentzville to Edwardsville. Gut Check sat down for an interview with Doyle last month.
Back on the list this week is The Year of the St. Louis Cardinals: Celebrating the 2011 World Series Champions, a lavishly-illustrated insta-book that would make a lovely gift for any devout Cards fan who has the stomach to relive the roller coaster that was the 2011 baseball season. (Spoiler: It ends happily, for the Cards anyway.) On the kids' list, St. Louisan-turned-New Yorker Matthew Cody's latest, The Dead Gentleman, makes its debut at number eight.
Full lists after the jump.
Adults Bestsellers:
1. Steve Jobs by Walter Isaacson 2. Finally, A Locally Produced Guidebook to St. Louis by and for St. Louisans, Neighborhood by Neighborhood by Amanda Doyle with Kerri Bonasch 3. 1Q84 by Haruki Murakami 4. Searching for Beauty: The Life of Millicent Rogers by Cherie Burns 5. 11/22/63: A Novel by Stephen King 6. Rin Tin Tin: The Life and the Legend by Susan Orlean 7. Squirrel Seeks Chipmunk: A Modest Bestiary by David Sedaris 8. In the Garden of Beasts: Love, Terror, and an American Family in Hitler's Berlin by Erik Larson 9. The Night Circus by Erin Morgenstern 10. The Year of the St. Louis Cardinals: Celebrating the 2011 World Series Champions by Major League Baseball
Children's/YA Bestsellers:
1. Diary of a Wimpy Kid 6: Cabin Fever by Jeff Kinney 2. Inheritance by Christopher Paolini 3. The Hunger Games by Suzanne Collins 4. The Invention of Hugo Cabret by Brian Selznick 5. Charlotte's Web by EB White 6. Miss Peregrine's Home for Peculiar Children by Ransom Riggs 7. Curious Baby Curious George: Curious About Christmas by H.A. Rey 8. The Dead Gentleman by Matthew Cody 9. Home for Christmas by Jan Brett 10. I Want My Hat Back by Jon Klassen