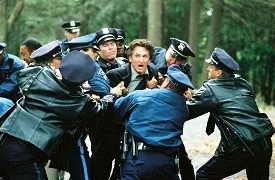 Studies suggest this is the precursor to excited delirium.
Was "excited delirium" the reason a 42-year-old Metro East man died in an emergency room following his arrest last Friday?
According to a news release ciculated by the Madison County Cornorer's Office over the weekend, the victim, Anthony T. Burkey of Granite City, appears to have died of either excited delirium or suffocation, although final results are pending until toxicology reports come back.
"Delirium" is a diagnostic medical condition that's well documented. But what, you might ask, is "excited delirium"? Turns out, it might be more of a forensic term.
First, the facts:
According to the coroner's office, Madison County law authorities received a complaint that Burkey was banging on the door of a residence in unincorporated Granite City. When officers arrived that morning, Burkey "appeared to be hallucinating," said Coroner Stephen Nonn in the press release.
At 8:15 a.m., investigators decided to take him to the emergency room at Gateway Regional Medical Center, where he behaved in a combative way and was given sedatives, Nonn reported. It's unclear what happened within the next few hours, but Nonn said that at about 2:45 p.m., Burkey became agitated again and started fighting with security officers at the hospital. Then, suddenly, he stopped fighting and became unresponsive. Efforts to revive him weren't successful, and he was pronounced dead in the emergency room at 3:35 p.m.
While it does not appear that "excited delirium syndrome" is listed in the Diagnostic and Statistical Manual of Mental Disorders, a recent article in the American Journal of Forensic Medicine and Pathology confirms that the scientific-sounding diagnosis is sometimes attributed to people who die shortly after being restrained by law enforcement, often as the result of drugs. Write the authors, from Texas Tech University Health Sciences Center:
"Unexpected deaths periodically occur in individuals held in police custody. These decedents usually have had significant physical exertion associated with violent and/or bizarre behavior, have been restrained by the police, and often have drug intoxication. Autopsy material from these cases may not provide a satisfactory explanation for the cause of death, and these deaths are then attributed to the excited delirium syndrome."
In other words, don't pay too much attention to the current cause of death for Burkey. Until the tox reports come back, the jury is still out.
A coroner's inquest will be held when the investigation is complete.