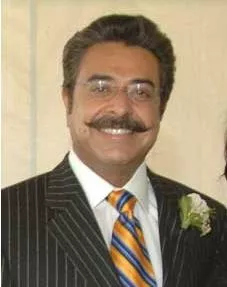 Shahid Khan: The greatest mustache in sports returns to claim his prize.
Call it
The Return of Khan
. Shahid Khan, the Illinois business magnate who
attempted to purchase the St. Louis Rams
last year before
Stan Kroenke foiled his plans
, is reportedly the
new owner of the Jacksonville Jaguars
.
But here is where Khan's ascent to the NFL's ownership table could still have a big impact on the St. Louis Rams: Khan, who made millions as president of a Champaign-based auto parts manufacturer, will reportedly keep the Jaguars in Jacksonville. Khan made a similar pledge when pursuing the Rams, saying he would keep the team in St. Louis.
Stan Kroenke has made no similar promise.
Prior to today's announcement Jacksonville was seen as one of the franchises
most likely to pack its bags
for a new stadium being built in Los Angeles. Following today's news, St. Louis just moved up to the front of the pack, adding one more argument to our list of
5 reasons the Rams will leave for L.A.