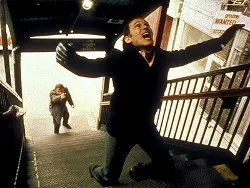 For many cops, shooting a suspect during the course of a crime means shooting to kill, and it's an action to be used only in matters of imminent danger.
With that in mind it's heartening that from 2003 to 2009 Missouri witnessed just 26 arrest-related deaths, well below the national average. Among the 45 states that reported arrest-related deaths consistently throughout that time period, only 14 states ranked lower than Missouri, according to new data released by the U.S. Department of Justice's Bureau of Justice Statistics.
Nationwide, 2,813 deaths resulted from the 98 million arrests made between 2003 and 2009, according to the new study, which is part of a long-term project called the Arrest-Related Deaths program. The program's directors are attempting to build a national collection of data about people who die either in the custody or under restraint of local or state law-enforcement personnel. The study's methodology accounts for instances in which cops are actively pursuing a suspect who hasn't been formally apprehended.
Of all the arrest-related deaths tallied, 61.5 percent were classified as homicides, 11.2 percent were suicides and 10.9 percent were labeled death by intoxication. Forty-five percent of fatalities occurred after a decedent engaged in assault either immediately prior to or during the process of the arrest.
As a group, the decedents tended to be older that the general arrest population; 55 percent of those who died were between the ages of 25 and 44, and just 3 percent were juveniles. Ninety-five percent were male, 42 percent were white, 32 percent were black and 20 percent were Hispanic.
California led the way with a reported 775 deaths as a result of an arrest, and Texas was next, with 696.