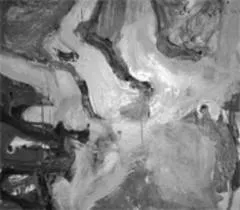 Don Rasch stole this 1956 Willem de Kooning and hung it over his bed for a brief period.
The
St. Louis Post-Dispatch
's article on the death of convicted art thief
Don Rasch
duly notes that he was found unconscious at his Maplewood home on November 12, and ended up dying on November 16, all of which authorities deem "suspicious," because:
There were no signs of a break-in or struggle inside his home. Rasch also did not have any outward signs of injury....An autopsy was inconclusive, so the St. Louis County medical examiner's office is conducting additional testing, including toxicological exams....[a detective says] suicide was "possible, but not probable."


The
PD
doesn't make much mention, however, of his dramatic backstory laid out in a
2005 RFT feature
by our former staff writer,
Kristen Hinman
: That Rasch and a well-heeled associate,
Biron Valier III
, teamed up in the early aughts to steal and resell $4 million in fine art.
Each man got convicted in federal court and did prison time.
One of the collectors who unwittingly bought the "hot" paintings from Rasch was real-estate mogul and Ladue art collector,
Stuart Slavin
, who later sued Rasch in state court. Court records suggest Slavin's claim was settled in 2008. A call to Slavin's attorney,
Duane Lee Coleman
, was not immediately returned.
Rasch also sold some of the stolen art to brothers
David
and
Jonathan Kodner
, inheritors of the
Kodner Gallery
. The Kodners then in turn sold the art to other buyers, exposing them to liability.
When the heist became clear, the Kodners did not sue Rasch, according to their attorney,
Al Watkins
. They did reach into their own pockets for $1 million to make their own clients whole again, Watkins adds.
Here's an excerpt from our feature that fleshes out Rasch's past:
"I grew up poor in East St. Louis," reflects the 44-year-old Rasch, a short, skinny chap with jet-black hair and arresting aquamarine eyes. "My father was a cop, and my mother worked in cosmetics at the Famous-Barr in downtown St. Louis."

"During the weekends my father worked three jobs, one as a security guard at a warehouse behind the Science Center," Rasch goes on. "I would watch the lot while he slept. I had a .38 on me, and a security guard's outfit, and our German shepherd, King, stayed with me. I was ten, and we busted a couple guys."

Rasch says his father would have loved him to be a cop, but Rasch had other ideas. "I wanted to be a zoologist," he says. As far as becoming an artist, "I had no choice. It just happened."

Long known in the local art world as "Downtown Don," an aging "loft rat" who squatted in spaces that doubled as his studio, Rasch has yet to make a buck from his paintings.

"One time we found a hole in the wall next to his door," recalls an ex-landlord, Stanley Palmer. "He must have locked himself out, and smashed a hole through the drywall to get back in. We had reason to look inside, and the place was a wreck. Garbage, beer cans, food debris -- you name it."

"Don was a slob," seconds Ellsworth Lank, Rasch's former employer at Fine Arts Express, a high-end art-transport and -storage company. "And he had an attitude problem, a chip on his shoulder, [thought] that he was smarter than anybody."

Lank and others say alcohol accounted for much of Rasch's problem. "I am a drunk," Rasch admits. "But people who really know me, like me."

Many refer to Rasch as a personable, charismatic guy, though they concede that they never reallyknew when he was telling the truth. "He had a history of saying things, not as they are, but as he'd like them to be," says Palmer.

Rasch boasted wildly of his military prowess and recently told acquaintances that he was shipping off to fight in Iraq. (He says he served in the Illinois National Guard in the 1980s.)

As for the heist in which he played a major role, Rasch gave this memorable quote:
"I got to make love to my woman under a Willem de Kooning nude," crows Donald Rasch on a recent October morning, proud of the stolen painting of a corpulent maiden that hung over his bed.

"Having this stuff in my life for just the amount of time that I did is probably worth the time that I'm going to be serving," he reasons. "Yes, I think so."