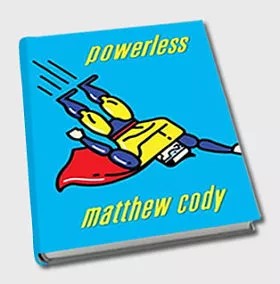 Here's your weekly St. Louis bestseller list for the week ending November 13, as compiled by the St. Louis Independent Booksellers Alliance and based on sales at Left Bank Books, Main Street Books, Pudd'nhead Books, Subterranean Books and Sue's News.
Sometimes the bestseller list has a sense of humor. Just look at some of the pairings this week: 1Q84 (a play off of 1984; it makes more sense in Japanese, apparently) and 11/22/63, followed by Death on a Platter and Wreck the Halls: Cake Wrecks Gets "Festive". Then there's Steve Jobs, followed by Goodnight iPad. Really, it's true! And there's also Rag & Bone a book of poems by Kathryn Nuernberger, a professor at University of Central Missouri, and William Greenleaf Eliot: Conservative Radical, a book of essays about the founder of Wash. U. and grandfather of T.S. Eliot by Earl K. Holt. (Yeah, that one wasn't as good.)
New to the kids' list this week is Powerless, a tale of kids doomed to lose their superpowers at puberty, by St. Louis native and former comic book store-haunter Matthew Cody, who has since moved to New York to haunt the comic book stores there.
Adult Bestsellers:
1. 1Q84 by Haruki Murakami 2. 11/22/63: A Novel by Stephen King 3. Death On A Platter: Josie Marcus, Mystery Shopper by Elaine Viets 4. Wreck the Halls: Cake Wrecks Gets "Festive" by Jen Yates 5. Blue Nights by Joan Didion 6. Steve Jobs by Walter Isaacson 7. Goodnight iPad: A Parody for the Next Generation by Ann Droyd 8. Rag & Bone by Kathryn Nuernberger 9. William Greenleaf Eliot: Conservative Radical by Earl K. Holt 10. Were You Born on the Wrong Continent?: How the European Model Can Help You Get a Life by Thomas Geoghegan
Children/YA Bestsellers:
1. Inheritance by Christopher Paolini 2. Brotherband Chronicles: The Outcasts by John Flanagan 3. Ninth Ward by Jewell Parker Rhodes 4. The Hunger Games by Suzanne Collins 5. Powerless by Matthew Cody 6. Every Thing On It by Shel Silverstein 7. Crossed by Ally Condie 8. Miss Peregrine's Home for Peculiar Children by Ransom Riggs 9. Olivia Talks Turkey by Farrah McDoogle & Jared Osterhold 10. Ranger's Apprentice: The Lost Stories by John Flanagan