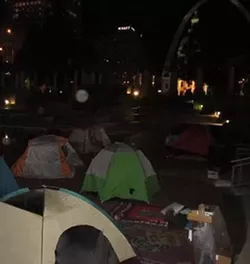 Kiener Plaza was a tent city before Partnership for Downtown St. Louis bent the mayor's ear.
A couple weeks ago Occupy St. Louis accused Mayor Francis Slay of
kowtowing to corporate interests
when he informed demonstrators (
via his blog
) that he would soon demand that they end their encampment at Kiener Plaza.
In a
press release
responding to the mayor's online diary, Occupy St. Louis accused Slay of acting on behalf of the
Partnerhip for Downtown St. Louis
, a business group whose members include downtown banks, law firms and corporations.
"This week, Downtown Partnership met with the mayor's office and told him to shut us down," claimed Occupy St. Louis in its November 7 media release. "He responded to their call. No more fitting example could illustrate who is pulling the strings."


Later that day Jeff Rainford, Slay's chief of staff,
declined to tell the Post-Dispatch
whether or not the mayor's office had in fact met with the partnership. When
Daily RFT called the partnership
to ask the same question, its spokeswoman said she didn't know if her boss -- Maggie Campbell -- had met with Slay and would get back to us. We're still waiting for that return call.

"We look forward to our meeting tomorrow to discuss this issue further," concluded Campbell at the end of the email. "We appreciate your support and thoughtful guidance."
Four days after sending the email (and three days after the partnership met with the mayor's office), Slay announced on his blog that the demonstrators could no longer violate the curfew at Kiener Plaza.
"Over the past several days, there has been a rising tide of complaints," wrote Slay, in defense of the
November 4 edict
.