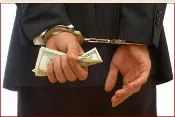 Federal prosecutions against financial institutions are ticking downward across the country, but the Eastern District of Missouri is defying that trend, nearly matching New York City's district in per-capita charges against banks so far this year.
A report released last week by the Transactional Records Access Clearinghouse at Syracuse University shows that the feds have been busting a decreasing number of financial institutions over the past two decades. If the same pace holds, federal attorneys will file 1,365 such cases by the end of the year -- the lowest number since at least 1991 -- down 28.6 percent from their numbers of just five years ago and less than half the level cited a decade ago.
But the report, which was compiled with data from the Department of Justice procured through a Freedom of Information Act request, also shows that the Eastern District of Missouri is bucking this phenomenon, cracking down harder on perpetrators of bank fraud this year under U.S. Attorney Richard Callahan. The 34 charges filed so far in fiscal year 2011 are up 60.9 percent from last year, making the district the fourth-most prolific prosecutor of financial institutions in the country, when adjusting for population. The St. Louis-based district is behind only New York (Manhattan), Alabama (Mobile) and Florida (Miami) in that category.
The classification of financial institution-related fraud covers an array of crimes including bank fraud, mail fraud, uttering counterfeit obligations or securities, embezzlement and receipt of commissions or gifts for procuring loans.
This year's bank fraud prosecutions in Eastern Missouri are still lower than they were ten years ago, according to TRAC's most recent analysis of Eastern Missouri. Overall, the data show that prosecutions of this type are down 24.5 percent from the level of 49 reported in 2001 and down 15.9 percent from the level of 44 reported in 1991.