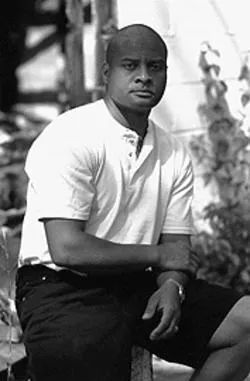 Jennifer Silverberg
Keith Conway, disgraced Kinloch mayor, is going to jail
Former Kinloch Mayor Keith Conway was sentenced today to 21 months in prison on charges of fraud, embezzlement and witness tampering. He was also ordered to pay a restitution of $62,429.
The ruling marks the end of an ugly saga for the north county elected official. Court documents and statements tell the kind of story that pretty much embodies why so much of the public tends to distrust politicians. Between January 2009 and March 2011, documents state, Conway, who was mayor from 1999 to May 2011, embezzled money from the already distressed municipality to fund vacations to Vegas, cruises to the Bahamas and timeshares in Florida for him and his friends. He also used the money to pay off credit card bills, income taxes and utilities in a city-owned apartment in which he was living rent free.
After he was arrested and charged for theft and wire fraud in May, Conway pleaded not guilty and walked free on $25,000 bond and the condition that he not contact any other witnesses.
Well, he headed straight from the courthouse steps to city hall, where he tracked down city officials to try to persuade them to cover for him, to give false information to the police and court. A months after he was indicted for the fraud charges, he was indicted for witness tampering.
In August, Conway, pleaded guilty to a count of wire fraud, a count federal program funds theft and a count of witness tampering-- all of which are felonies. He faced a maximum of 40 years in prison and $750,000 in fines.
Conway's crimes seemed particularly heinous given the straits of the town he was elected to lead. As Sarah Fenske reported at the time of the initial indictment,
Conway's alleged embezzlement is only the latest crisis to confront Kinloch, which is home to one of Missouri's oldest African American communities. Once a thriving muncipality, Kinloch has lost more and more of its land to Lambert-St. Louis International Airport; between 1990 and 2000, the city lost more than 75 percent of its population. It's currently home to fewer than 1,000 residents.
Two days after Conway was first indicted, the Kinloch Board of Aldermen appointed Alderwoman Ann Marshall as interim mayor.