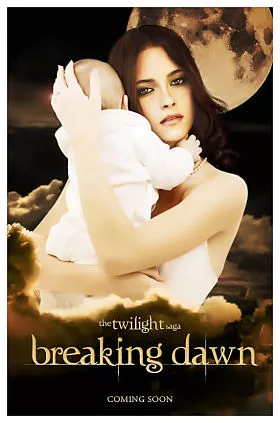 You mean this isn't every girl's dream?
OMG, did you hear The Twilight Saga: Breaking Dawn, Part 1 is out today and that Edward and Bella totally have the most romantic wedding ever and then they, like, totally do it and break the headboard and then Bella gets knocked up with a vampire baby? OMG! OMG! OMG!!!
Fortunately, it appears, at least according to the findings of a group of Mizzou researchers, that young Twilight fans are able to separate their girlish fantasies of falling madly in love with a wealthy, handsome 100-year-old vampire and then marrying him straight out of high school and having his vampire babies from their own real-life ambitions of going to college and having careers and not having to wait to get married before they have sex. Yes, young female readers are that intelligent!
Now can we get back to parsing the movie's fucked-up gender politics? Thanks.
COLUMBIA, Mo. - A team of University of Missouri communication professors who have studied gender dynamics within the Twilight franchise say the latest installment, The Twilight Saga: Breaking Dawn: Part 1, may have the most controversial cultural messages of the entire series.

"Of the four books and movies, Breaking Dawn is perhaps the most troubling in terms of gender messages," said Jennifer Stevens Aubrey, associate professor of communication. "Feminists, especially, have criticized the book for its socially conservative portrayal of teen sexuality, marriage and pregnancy."

Communication professors Melissa Click, Jennifer Stevens Aubrey and Elizabeth Behm-Morawitz of the MU College of Arts and Science have studied Twilight fandom and published a scholarly book, Bitten by Twilight: Youth Culture, Media & the Vampire Franchise (Peter Lang Publishing, 2010). The researchers found that early in the series, the predominately female audience was drawn to the traditional, idealized romantic relationship that stresses the importance of abstinence. Breaking Dawn progresses the story into pregnancy and marriage, and many of the fans of the story did not agree with the choices of the main character, Bella.

"Many of the teenage Twilight fans we interviewed recognized the storylines in Breaking Dawn as socially conservative," said Melissa Click, assistant professor of communication. "In fact, while they were excited to see Bella and Edward get married shortly after high school graduation, they did not want to make the same choices that Bella makes in Breaking Dawn. These teenagers want to go to college, and they didn't want to rush into marriage and motherhood."

"Though we do have evidence that fans are thinking critically about Twilight, it is the subtleties of the messages about gender and sexuality that remain concerning," said Elizabeth Behm-Morawitz, assistant professor of communication. "It's not surprising that teen girls don't desire Bella's life choices, but the romance of Breaking Dawn is highly appealing to them. Breaking Dawn, and the series as a whole, does more than entertain - it communicates and potentially reinforces cultural messages about sex before marriage and life and death."