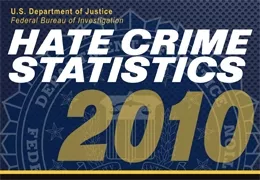 The FBI released its annual batch of data on hate crimes earlier this week, offering a breakdown by state and jurisdiction. Here's the most curious thing that jumps out immediately:
Number of hate crimes reported last year in Kansas City, population 484,191: 76
Number of hate crimes reported last year in St. Louis, population 355,151: 4
So what accounts for the discrepancy?
We don't know.
A spokesperson with the St. Louis Metropolitan Police Department said the department simply follows the Missouri state statute for the reporting of hate crimes, adding that the decisions are left up to the individual detectives who work each case.
In Kansas City, the department uses its own policy in reporting bias crimes, which asks individual patrol officers to make a judgement on a possible bias crime when filing their incident reports. Their reports are then forwarded through the department's Perpetrator Information Center, which creates a log of hate crimes and passes them along to detectives, who in turn pass their assessments along to their supervisors.
Each jurisdiction in the state reports hate crimes to the Missouri Highway Patrol, according to an FBI spokesman. We put in a call to the Highway Patrol's Criminal Justice Information Services Division to help break down the discrepancy between Kansas City and St. Louis and will update this post if we here back.
Regardless, we should note that comparing jurisdictions when it comes to the reporting of hate crimes should be taken with a grain of salt, as it can sometimes lead to oversimplified conclusions, as spelled out by the FBI.
Hate crimes occur when there is an element of bias against the victim. Overall, the 6,628 hate crime incidents reported across the country stayed consistent with the 6,604 incidents reported in 2009. The agencies that participated in the Uniform Crime Reporting Hate Crime Statistics Program effort in 2010 represented more than 285 million people, or 92.3 percent of the nation's population. Almost a fourth of the FBI's civil rights caseload comprised hate crimes.
Here's the breakdown of hate crimes in the country:
Race: 47.3 percent
Religion: 20 percent
Sexual orientation: 19.3 percent
Ethnicity/national origin: 12.8 percent
Disability: .6 percent
California led all states with 1,331 hate crimes that were reported. In Missouri, 167 hate crimes were reported, putting us at No. 14 on the list. Sixty incidents were linked to assaults, but none were linked to murders or rapes.