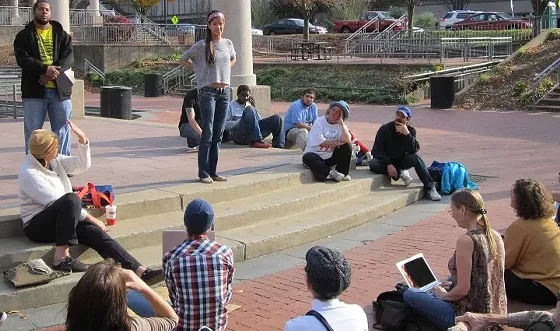 Photo: Tony D'Souza
Members of Occupy St. Louis meet Sunday in a tent-free Kiener Plaza.
As members of Occupy St. Louis gathered Sunday to discuss how to reorganize following Saturday's
forced eviction from Kiener Plaza
they could take solace in at least one thing: They were not alone.
Across the nation city officials used the November 12-13 weekend to crackdown on Occupy movements camped out in urban parks. In Salt Lake City on Saturday, police arrested 19 people when evicting the movement from a downtown green space. In Denver, police arrested 17 people. And in Portland on Sunday, Occupiers and police in riot gear faced off in hours of tense confrontations following the forced removal of a camp there.
Also Sunday, Philadelphia increased police patrols, while Oakland, the scene of violent clashes earlier this month, issued Occupiers a third eviction notice, warning of "immediate arrest."
Photo: Tony D'Souza
Jamie Curran of the Pax Christi non-violence movement speaks to Occupy St. Louis at Kiener Plaza Sunday afternoon.
The moves come after more than a month of cities using a hands-off approach to Occupy's headlines-grabbing tactic of setting up tent camps on public land, in violation of various ordinances. City officials in recent weeks have complained of a laundry list of public safety concerns posed by the camps, including litter, urination, defecation, graffiti, blocked sidewalks, thefts, assaults, threat of fire, drug overdoses, and arson.
A man was shot and killed in the Oakland camp last week, while a veteran killed himself in Burlington, Vermont. Another man was found dead of suspected drug use and carbon monoxide poisoning in Salt Lake City, and in Philadelphia, a woman was raped in her tent. However, spokespersons for Occupy claim that officials have been trumpeting these incidents to draw attention from what has been largely a peaceful movement.

In Kiener Plaza on Sunday afternoon, 75 Occupy St. Louis supporters held a sedate discussion of their next move following the removal of their camp. Without their tents, banners, and megaphones in the now cleared and drab plaza, the St. Louis protestors have lost the easy identification they had just two days ago. Included in the gathering were many of the 27 arrested Saturday, all but one of whom has since been released. The lone Occupier still in the St. Louis Justice Center is being held on unrelated warrants.

"It was an educative experience," said William, 24, a local restaurant server who preferred not to give his last name. "It was interesting to see how the prison system functions. They moved us around a lot. They gave us high fructose corn syrup and white bread. I wouldn't say I liked it."

Another Occupy arrestee, Joseph Paul Poposky, 29, of north St. Louis, said, "The police were professional, we didn't have anyone suffer any kind of brutality. Some of our female Occupiers received harsher treatment, more intrusive searches. The men didn't get subjected to anything like that. A few of the staff expressed that they didn't want to be doing this particular job. The police are also part of the 99 percent."

In a press conference directly following the Kiener eviction early Saturday, Lieutenant Dan Zarrick explained why his officers did not deploy riot gear, as police have in other cities. "Our intelligence was that it was going to be peaceful. We've been in discussions with just about every city that is having similar situations. We followed our own training." With Kiener Plaza's 10 p.m. curfew now being enforced, Occupy St. Louis must find a new way to stay visible. The general consensus at Sunday's meeting was that the arrests--and the national media coverage--were good for the movement, and that a presence in Kiener, even one without tents, should continue.

"We are 'Occupy St. Louis'," Poposky said. "We were never 'Occupy Kiener Plaza'." Oren Goldberg, 32, was more cautious. "[The eviction] strengthened our foundation. We had thousands of people watching on live stream all over the world. We obviously got a lot of attention from it, but how can it be a good thing? Despite what some people say of the frivolousness of an occupation in a public space, it's clearly become an extremely powerful symbol."

Occupy St. Louis' lawyers will be arguing just that in front of Federal District Court Judge Carol Jackson in a 9:30 a.m. hearing on Tuesday morning, when they'll cite freedom of speech laws in an attempt to defend Occupy's most recognizable form of protest. The 27 Occupiers arrested Saturday will have their day in court on December 12th, and their confiscated belongings -- hauled away in Forestry Department garbage trucks--remain available to them at the City Health Department on North 13th Street.

Now scattered, some Occupiers have taken shelter with family and friends, or have simply gone home. Leaders within Occupy St. Louis also say they have a number of 'safe houses' in the city. One is a warehouse south of the Arch used to shelter homeless, according to Chaplin Thomas Stratman of the Universal Church. "Nobody's giving up," Goldberg concluded.