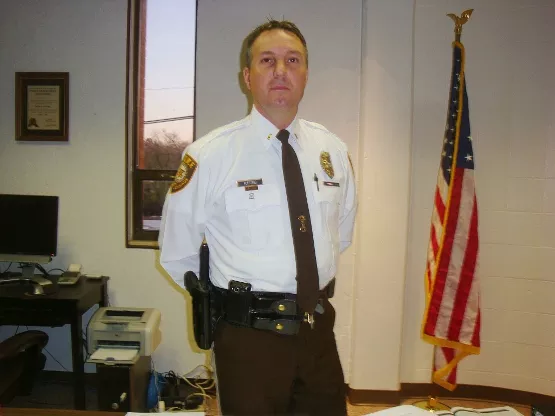 It's November 10, 6:45 a.m., and Lt. Jeffrey Fuesting is tired.
The new commander of the Jennings police force is driving down a street pockmarked with boarded-up homes, trying to shake off his recent lack of sleep. Two nights ago an emergency call roused him from bed; a man had contacted the police station in the middle of the night claiming to have killed his wife. Fuesting dashed out of his home in O'Fallon and bolted to the address the killer had given the dispatcher.
Result: false alarm. The home -- one of the boarded up buildings on this particular block -- was vacant.
"He was a prank caller who dialed 911 from a disconnected phone and hung up before we could trace it to a cell tower," says Fuesting, a mild-mannered fellow with a boyish face and dimpled chin, steering the wheel of his unmarked Crown Victoria and squinting through the morning sunrise.
Fuesting and fifteen fellow cops are canvassing the city this morning with a list of hundreds of addresses where criminals are thought to be living. The 39-year-old commander tails two SUVs carrying officers from the K-9 Squad and Tactical (SWAT) Division. This is the second early-morning warrant roundup since the St. Louis County Police Department took control of the Jennings police outfit in March, following an internal corruption scandal. And Fuesting is the man tapped to turn things around.
Last fall a joint federal-state investigation revealed that a Jennings police lieutenant had accepted federal money earmarked to pay for DWI checkpoint shifts that never happened. The chief at the time, who never got linked to the scandal, resigned. In November, Fuesting and his boss, Cpt. Troy Doyle of the North County Precinct, took over temporarily, and in March, the Jennings City Council voted 6 to 1 to disband the local police department and enter into a $2.8 million contract with St. Louis County.
The move required a full housecleaning; each existing officer got laid off by the city, and the county brought in a team of 26 new officers. (A small handful of former Jennings cops were rehired.) Fuesting assumed command on March 12.
"The challenge is to move the entire city forward, and I'm just a little piece of the puzzle," says Fuesting, a native of Effingham, Illinois -- a town so small that his father, also a cop, sometimes arrested people he knew personally. Allured by the "big city," he says, Fuesting moved to St. Louis in 1994, bringing his wife, whom he met in high school, along with him. He spent three years with the St. Louis Metropolitan Police Department before transferring to the county and moving up through the ranks.
His newest challenge is probably his steepest. According to FBI data from 2010, Jennings, with a population of about 14,700, ranked No. 9 among Missouri jurisdictions in violent crimes per capita, just behind the City of St. Louis. Last December an undercover sergeant from Maryland Heights who'd traveled into Jennings for a surveillance job was shot in the face by a would-be carjacker. (He recovered and has since rejoined his force.) In June, a 14-year-old middle-school girl was shot in the face during a dispute among teenagers along Hord Avenue shortly after school broke out. (She recovered and is back in school.)
But such isolated occurrences belie a new strategy that appears -- at least for the moment -- to be working. Fuesting has implemented a more targeted approach, assigning more patrolmen to certain hotspots at designated times. He has shifted the scheduling structure so that officers' shifts overlap during high-crime periods of the day. And he's mobilized a handful of neighborhood watch groups, encouraging citizens to report more crimes when they see them. On top of that, he's knocked on hundreds of doors and thrown a few barbecues and block parties to get to know the residents.
As a result, "Part One" crime -- the classification covering major felonies, including violent crime -- is down 13.2 percent in Jennings this year. (The rate is 19.8 percent during the March-October period reflecting the county's takeover.) In addition, the county cops made 5,815 arrests this year, compared with 2,910 through October of last year, and residential calls to the police have nearly doubled.
People are slowly beginning to notice. Joseph Zlotopolski, the Jennings fire chief and director of public safety, says the department was in disarray last year.
"They didn't have the training or the leadership or the goals," says Zlotopolski, who's been with the fire department since 1979 -- during a time when his own father was the Jennings chief of police. Zlotopolski says several former officers learned "bad habits" in other city departments and probably should not have been hired.
"They'd show up, grab a set of keys and blindly drive around," he says. But now, he continues, "The criminals know there's a new sheriff in town, and we're not playing a game."
**
It's Tuesday, November 8, and the police dispatcher announces that a bank robbery is in progress. Luckily, Michael Smith is already on the scene. In a matter of seconds, Smith spots a man sprinting out of the bank with a bag of loot.
"Let me see your hands!" Smith yells, pointing his gun at the suspect. "Give up! Get down on the ground!" The robber, who has gold teeth and a doo-rag, doesn't cooperate. In a flash, he reaches into his pocket and whips out his gun. That prompts Smith to pull his own trigger, peppering the thug with three shots to the chest.
Smith may be wearing a bulletproof vest and police belt, but he's no cop. He's a young, bespectacled, gum-chomping teenager from Jennings, and he's here at the St. Louis County and Municipal Police Academy in Wellston, taking part in a remarkably lifelike crime simulation. It's part of a county-run program called "Teen Academy" that introduces kids to the fundamentals of law enforcement. This is the first time the program has been offered to kids from Jennings; it's one of the handful of new community initiatives the city has implemented to foster a better rapport with the police.
Thirteen-year-old Dewey Pearson, above, says he wants to be a police officer when he grows up.
The simulator depicting the fictitious bank robbery is the same one used by actual police recruits. Purchased for more than $100,000, the apparatus features life-sized actors staging criminal situations -- domestic disturbances, robberies and the like -- all of which are projected cinematically onto a giant screen. The idea is to let recruits practice their decision-making skills when it comes to using deadly force. If the recruit decides to shoot, the system's laser technology identifies the exact spots the bullets would land, based on the recruit's aim.
The six Jennings kids who are here tonight -- the youngest is 12 years old -- take turns firing their weapons at bad guys. One boy with a Mohawk shoots a knife-wielding man taking a hostage at a hospital. A young girl fires at a man lurking in a shadowy corner, gripping an ax.
The six-week Teen Academy is run by Officer Kevin Martin, a sinewy, buzz-cutted brick of a man who also serves as the neighborhood policing officer for Jennings. Martin began the session by outfitting the kids with police belts, replica guns and bullet-proof vests that for two children hover just above the knees. Minutes later the pint-size patrolmen were marching single-file into the building, patting the plaque that honors fallen officers on their way inside.
The kids seem to relish the program. They laugh as they run laps in the gym while an instructor hollers "Give me all you got, recruits!" One boy announces he wants to be a cop when he grows up.
It's a nice respite for a group of young people who are perhaps too familiar with crime. Two of the kids say they went to school with the 14-year-old Jennings Junior High girl shot in the face last June, the innocent victim of a frivolous quarrel that escalated into a gun war.
"The whole fight was over an iPod," recalls a skinny 12-year-old boy enrolled in the academy. "It still feels unsafe here."
**
Back at the early-morning warrant roundup, Officer Rob Kircher is banging on the door of a house on Sapphire Avenue. "County Police!" he barks. His three fellow officers encircle the home.
A child answers the door, clad in a white polo shirt, all ready for school. Two more children join him. Soon, the children's mother emerges with a gray hoodie pulled over her face and draped over her back like a cape. The children begin to cry. The mother violated her parole terms, and she's driven back to the station, handcuffed to the wall and told to remove her shoelaces. She'll be transported to the St. Louis Justice Center later in the day.
By the end of the roundup, the detail made fifteen arrests, eleven for felonies. None of the suspects wanted for violent offenses answered their doors.
Fuesting is optimistic that crime will continue to drop and expresses his loyalty to the residents. "The Jennings community is amazing," he says. "Coming in we heard negative things through the media, but once we got know them we realized they're such great people. I tell everybody that this city has the most potential in all of North County."
After just eight months, he says, "This is the most rewarding position I've had in my entire career."