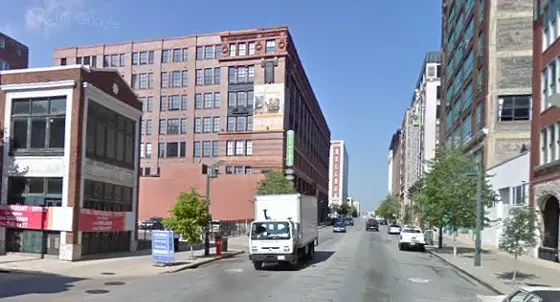 bachelor party in the downtown St. Louis loft and nightclub district turned violent last night.
According to police, a 28-year-old man attending the pre-wedding bacchanalia got into a fight and was shot in the lower back around 11:30 p.m. in the 1500 block of Washington Avenue (above). Police haven't released a motive and did not say whether the victim and suspect knew each other.
The suspect immediately fled the scene in a 2010 Dodge Charger with officers pursuing the vehicle. The police chase eventually ended up on Interstate 44 and concluded in Webster Groves, where the suspect fled from the vehicle near I-44 and Berry Road. His whereabouts were unaccounted for this morning.
Police say they recovered two guns at I-44 and Arsenal that the suspect allegedly tossed from the vehicle during the chase.
he victim was transported to an area hospital and is listed in stable condition. An investigation is ongoing. Daily RFT has a request out with the police for additional information. More on that when/if it becomes available.
Update 12:55: Police say the incident occurred in an apartment. It remains unknown how -- if at all -- the victim and suspect knew each other.