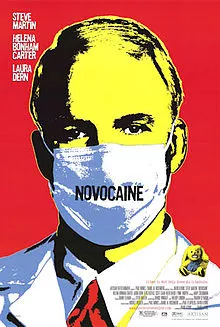 But wait -- after dental work, don't you want to remain numb? Actually, after we got our wisdom teeth out, we would have preferred to remain unconscious. But numb was okay, too. It beat the protracted pain in our gums, which felt like a little goblin was back there hacking away with a little pickax.
Well, hey, different strokes for different folks.
NEW DENTAL PRODUCT SPEEDS UP NUMBNESS RECOVERY

Soft Touch Dental Uses OraVerse to Reverse the Effect of Numbness

(ST. LOUIS/ Nov. 9, 2011) Some people dread leaving the dentist numb from anesthetics. The drooling and the limited ability to eat, drink and speak can often be side effects of lingering numbness. Luckily, there is a new product that dentists are discovering that helps quicken the recovery of sensation in those frozen lips and tongues.
To reverse effects of the anesthetic, a dentist can administer OraVerse in the same way that the local anesthesia is given in the first place by injection. In clinical trials, patients who received OraVerse recovered nearly two times as quickly after a procedure in which they were numbed versus those in a control group. Market research shows that 88% of patients may be interested in receiving a product like OraVerse.

Dr. Elliot Leon, CEO of Soft Touch Dental, is a local St. Louis area dentist who recognizes the benefit of OraVerse. "I know that the numbing effects of anesthetics can affect a person's day. I like to give my patients the option of OraVerse so they can get on with their day without waiting for the numbness to go away."

Dr. Leon has received positive feedback from his patients who have received OraVerse after a procedure. "Many report that they recovered noticeably faster after receiving OraVerse. Most are able to go back to work about an hour later. This is great for those who can't take a full day off because of a dentist appointment. That isn't very practical" he says.

Dr. Elliot Leon, CEO of Soft Touch Dental, has practiced in Florissant for 28 years and remains attuned to the latest in dentistry news and technology. Dr. Leon's office is widely recognized for state-of-the-art equipment, quality dental care and modern practices in a warm and relaxing environment.