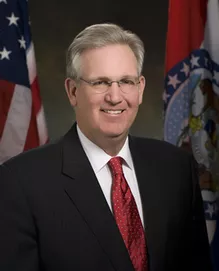 Daily
RFT
didn't get an invite* to Governor Jay Nixon's fundraiser yesterday, but apparently hundreds of other people did.
A source in attendance tells Daily
RFT
that an estimated 600 people arrived last night at the Renaissance Grand downtown to support Nixon in his bid for re-election. David Peacock, head of U.S. operations for AB-InBev, introduced Nixon to the crowd dining on chicken dinners and (surprise!) Anheuser-Busch libations.
Among the muckety-mucks in attendance, we're told, were Mayor Francis Slay, St. Louis County Executive Charlie Dooley, Attorney General Chris Koster, state Treasurer Clint Zweifel and a bevy of state senators and reps.
As of last month, Nixon's campaign had nearly
three times the amount of cash on hand
than his presumptive Republican challenger in Lt. Governor Peter Kinder.
*Not that we wanted an invite nor would we have attended had we been asked. We were too busy watching the CMA Awards last night. Taylor Swift "Entertainer of the Year????" WTF!