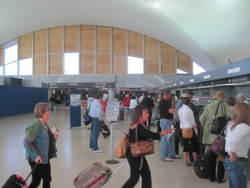 Lambert Field weathered the storm this year -- and came out on top!
We know what you're thinking: Lambert Airport is the airport of the year?! The judges must
really
like plywood windows!
Whoa! Easy now. Those
blown-out windows from the tornado
last April are being replaced, thank you very much. And, besides, Lambert didn't win for aesthetics.
The Transportation Security Administration hands down its "Airport of the Year" award each year for the transportation hub that exhibits "exceptional courtesy and attentiveness to all passengers and customers while offering the highest quality of airport security." That's right, when St. Louis airport officials pat you down, they do so in such a gentle manner the
Pointer Sisters want to sing about it
.
The TSA also honored Lambert Director Rhonda Hamm-Niebruegge today at an awards ceremony in Washington D.C. for her on-going partnership with the federal agency.