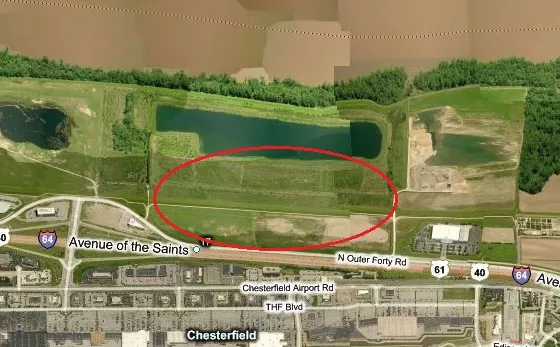 The proposed mall would lie between I-64 and the Missouri River.
Members of the Chesterfield City Council tonight are expected to take up a
measure to rezone 48 acres
of floodplain along Interstate 64 for commercial use as an outlet mall.
If that sounds familiar, it's because it is. Following the Great Flood of 1993, Chesterfield opened up the land south of Interstate 64 for commercial development. That area is now home to
Chesterfield Commons
, said to be the longest strip mall in America.
The land for the proposed outlet mall sits just across the highway, sandwiched between the interstate and the Monarch-Chesterfield Levee. On the other side of the levee lies the Missouri River. In 1993 the levee couldn't hold back the water and Chesterfield Valley drowned in up to 18 feet of water.
Today the levee has been reinforced. They say it can
survive anything but a 500-year flood
if (or when) such a deluge ever materializes. Still, is it a safe bet for city officials to clear the ground for out-of-state developers T-O Ventures to build on the land?
Moreover, does St. Louis (and specifically Chesterfield with its Chesterfield Mall and Chesterfield Commons both a stone's throw away) need more retail space? And what would this 100 stores for this outlet mall do to the St. Louis Mills outlet mall in Hazelwood?
We're hearing, too, that the T-O Ventures may also be asking for public subsidies for the project at a later date. We're also told that opposition to the project plan to make their voices heard at tonight's council meeting. Should be a good one. We'll keep you updated.