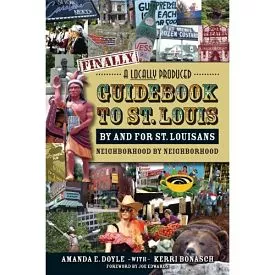 Here's your weekly St. Louis bestseller list for the week ending October 23, as compiled by the St. Louis Independent Booksellers Alliance and based on sales at Left Bank Books, Main Street Books, Pudd'nhead Books, Subterranean Books and Sue's News.
It's been a good week for St. Louisans -- make that Missourians. There's been the World Series, of course, and the influx of cash into the city from visiting baseball fans. But it's also been a good week for local writers, who occupy half the spots on the adult bestseller list.
There's Daniel Woodrell, the Ozarks author of "country noir" (most famously Winter's Bone), whose new book of short stories, The Outlaw Album, holds the number-one spot. At number two, there's Amina Gautier, a former post-doctoral fellow at Washington University who launched her own story collection, At-Risk, at Left Bank Books. At number seven, there's Gerald Early, a Wash. U. professor, whose new essay collection, A Level Playing Field, examines the question of whether athletics is truly the only area in American life where African-Americans are considered equal.
At number nine, there's Danielle Smith, a local mommy-blogger who inadvertently became an internationally-famous model two years ago when a Czech grocery store stole a Christmas-card photo of her very attractive family and used it in a series of ads. (Perhaps internationally-famous is too strong a term?) We're not sure whether Smith addresses this incident in her new book, MOM, Incorporated: A Guide to Business + Baby, co-authored with Aliza Sherman; we're thinking probably not, since Smith and her family weren't compensated for the use of their bright, smiling faces.
And, of course, there's Amanda E. Doyle, editor of Where Magazine and former co-host of KDHX's Collateral Damage, whose new book (co-written with Kerri Bonasch), Finally, a Locally Produced Guidebook to St. Louis by and for St. Louisans: Neighborhood by Neighborhood, is entirely self-explanatory. It's also fierce competition for our very own Best-Of issue. (We tremble.)
Adult Bestsellers:
1. The Outlaw Album: Stories by Daniel Woodrell 2. At-Risk by Amina Gautier 3. Finally, a Locally Produced Guidebook to St. Louis by and for St. Louisans: Neighborhood by Neighborhood by Amanda E. Doyle with Kerri Bonasch 4. The Help by Kathryn Stockett 5. Boomerang: Travels in the New Third World by Michael Lewis 6. Damned by Chuck Palahniuk 7. A Level Playing Field: African American Athletes and the Republic of Sports by Gerald Early 8. The Marriage Plot by Jeffrey Eugenides 9. MOM, Incorporated: A Guide to Business + Baby by Aliza Sherman and Danielle Smith 10. Go the Fuck to Sleep by Adam Mansbach and Ricardo Cortés
Children's/YA Bestsellers:
1. The Son of Neptune: Heroes of Olympus, Book 2 by Rick Riordan 2. Miss Peregrine's Home for Peculiar Children by Ransom Riggs 3. The Power of Six by Pittacus Lore 4. The Hunger Games by Suzanne Collins 5. First Kill (The Slayer Chronicles) by Heather Brewer 6. Floyd and the Future Frog: Adventure is Just a Text Message Away by Paul Cook and Norm Daniels 7. SPHDZ Book #1! (Spaceheadz) by Jon Scieszka, Shane Prigmore and Francesco Sedita 8. Divergent by Veronica Roth 9. Cars Lets Cruise! Collection by RH Disney 10. Rich: A Dyamonde Daniel Book by Nikki Grimes and R. Gregory Christie