Lauren Stafford, 22 Washington Ave. and Tucker Blvd.
​In an effort to celebrate the people who keep our city interesting, Daily RFT is launching a new weekly blog post, "Bold Types," featuring photos and street interviews with the fashionistas, fresh faces and free spirits of our town.
So you're a tourist? Yes. I'm visiting my friend who works for the Rams. I'm originally from Baltimore, and now I live in New York. By the way, you're really a reporter, right? These photos aren't for personal consumption?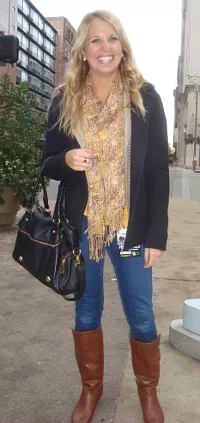 Not at all. What's your impression of city so far? I love it. It's so artsy. I had no idea. There are lots of cool statues, and the architecture's really neat.
I noticed you're drinking a Bud Light on the street. I guess you've adapted to the city's culture pretty quickly. I think that's my favorite part of St. Louis -- no open-container laws.
What do you think about these crazy Cardinals fans? I want to be one. I don't think you should have two sports teams in one city like they do in New York, because people get divided. There should be one team for one city.
What do you do? I work in media.
Why would you ever get involved in media? Because there are a lot of perks. We get really cool things.
Clearly you're not working on the journalistic side of things. I was, and then I switched.
Smart woman. I think so.