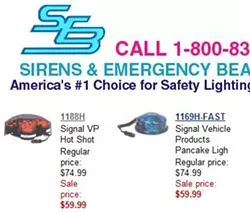 seb-usa.com
You, too, can pretend to be a cop for the low, low price of $59.99!!!
Two ingenious St. Louis thugs have uncovered a brilliant way to rob people. And all you need is a store-bought police siren, a vehicle that could pass as an undercover cop car and some guns.
As the
real
St. Louis police report this morning, the suspects pulled over at least three vehicles over night, pretending to be cops in order to rob victims.
The first incident occurred around 11:45 p.m. when a 47-year-old man was driving home from his job at the Church's Chicken at 3420 N. Kingshigway. The victim told police he was a few blocks from the restaurant when a dark-colored SUV flashed a police siren and pulled him over on Kingshighway. The two suspects -- described as black males in ski masks -- approached the man's vehicle with guns and demanded the deposit bag from the restaurant.
The men then took the victim's cell phone and keys and fled the scene. The victim would later run home and call police. Accompanied by law enforcement, the victim returned to the restaurant where he discovered the door unlocked but nothing missing.
A half-hour after the suspects first pulled over the restaurant employee, they struck again. This time they pulled over a car in the 7200 block of West Florissant in north city. The victims -- two females in their 30s -- told a similar tale. The suspects flashed the siren and the women pulled over to the curb. The men were armed with a gun and demanded a wallet from one of the victims. They took a ring from the other female in the car but then returned it before telling the women to drive off. The victims described the suspects as two black males, one with a short Afro and the other with long dreadlocks. The men appeared to be in their 20s or possible early 30s.
Five minutes later the suspects pulled over another driver on West Florissant. The 24-year-old victim told police that the men asked her for her license and registration. One of them then reached into the car and unlocked her doors. She re-locked the doors and asked the suspects to provide police ID. The men then told her to leave the scene.
The men are now wanted for impersonating officers and robbery. Anyone with information regarding the suspects is asked to call CrimeStoppers at 866-371-8477 (TIPS).